Commercial Mold Remediation Toronto
Mold can present a serious health and safety risk for people exposed to mold inside a commercial property. Growing quickly in damp areas, mold easily becomes an unnecessary and unwelcoe interruption to business operations. If you suspect you may have mould in your business's offices or facility, call Canada's Restoration Services. At Canada's Restoration Services, we specialize in commercial mold services, including mold inspections and mold removal in Toronto. We have performed commercial mold services in hospitals, schools, community centers, churches, industrial buildings and offices. The sooner you get mold remediation in Toronto, the sooner you can return to business as usual.

Commercial Mold Inspections Toronto
When dealing with mold contamination, the experts at Canada's Restoration Services will walk you through the process of understanding how we identify, treat and remove the mold from your commercial property. During the inspection, we assess the affected areas, locate the source of the growth, identify any other potential areas that may contain mould, construct a remediation strategy and provide a quotation.Identifying the presence of mould is essential to preventing the mould from spreading and thereby, minimizing the cost of mold removal.
At Canada's Restoration Services, we understand that mold can be a burden and thereby, we offer the option to service businesses during non-business hours and weekends. In addition, we also provide the option to arrive on site with unmarked uniforms and vans to keep the issue private, if preferred.
Commercial Mold Remediation Services Toronto
Our priority is to eliminate toxic mold (or black mold) and restore your business, while keeping you and your loved ones safe. Once we construct a detailed report, we execute our plan of action. Our IICRC certified experts begin restoration by setting up a containment around the affected areas to prevent cross-contamination. This is an essential step in the mold removal process, as it prevent mould spores from dispersing and spreading to other unaffected areas. We utilize HEPA vacuums to capture extremely tiny particles.
After using the HEPA vacuum, we sanitize, disinfect, clean and scrub down all affected areas. We ensure that the mould is completely removed - both airborne and visible - and fix any repairs that are required. Once mold remediation is complete, we conduct clearance testing to guarantee that mould has been removed. We provide business owners with a certificate stating that the commercial property has been cleared of mould.
We follow a step-by-step mold removal process that abides by health safety standards and industry guidelines. Our technicians utilize personal protective equipment throughout the mold remediation procedure. We are equipped with state-of-the-art equipment and the most advanced technology to help us detect moisture in hidden areas, to effectively remediate the mould and to eliminate any health risks.
Where Mold Inspections in Toronto Should Focus:
Mold grows 24-48 hours after a moisture issue or water damage has occurred. That is why an immediate response is required once a water damage has transpired. Without mold removal in Toronto, infesting fungi will continue to spread if it is not remediated effectively. Taking immediate action can prevent the mold from spreading and prevent further destruction. Mold damages the structure of your building and can grow on various areas in your commercial property, such as: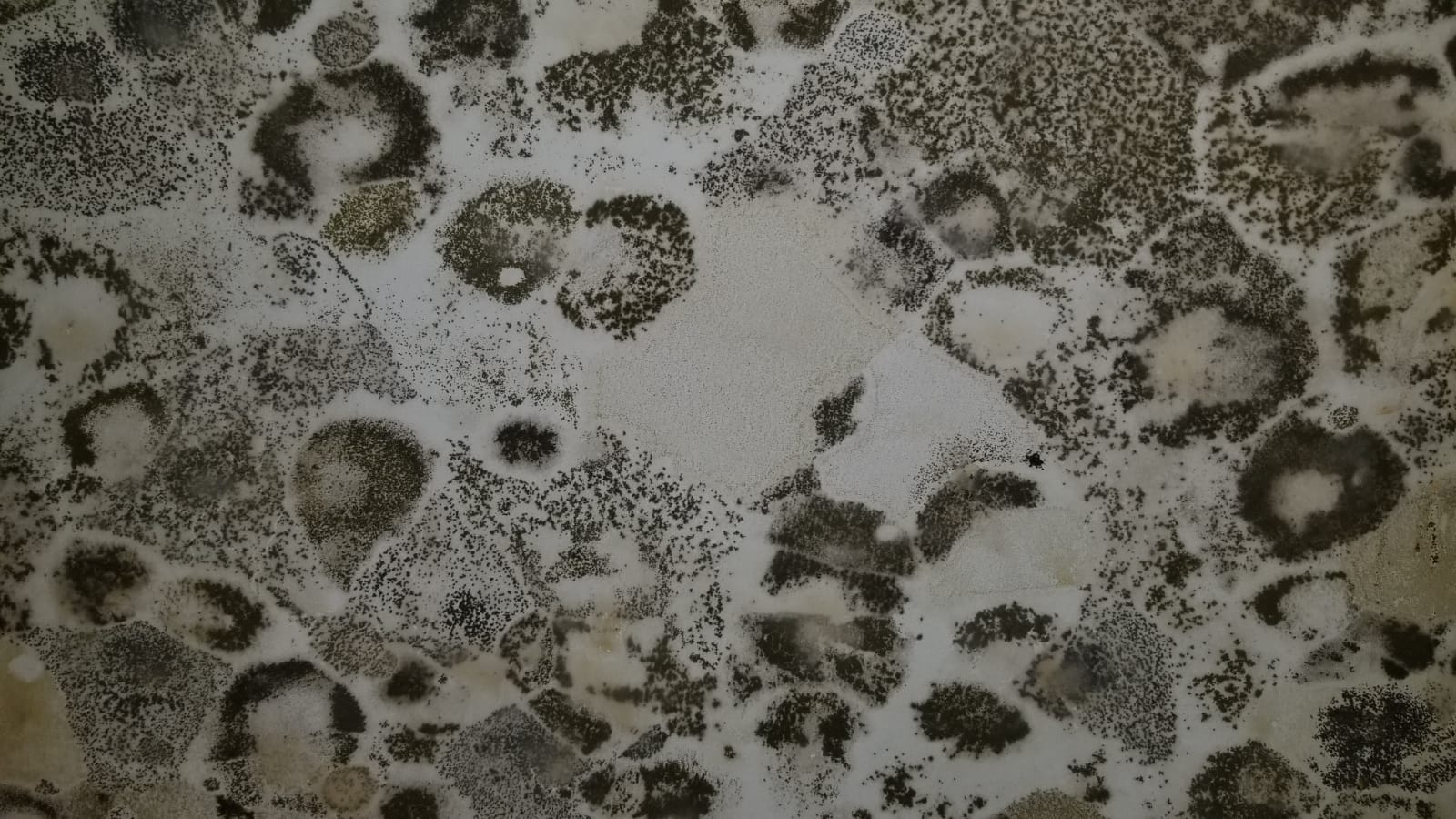 foundation
basement
drywall
gutters
roofs
insulation
furnishings
ceiling tiles
wood
Commercial Mold Testing in Toronto
Mould is not always visible and an air quality test may be required to detect the presence of mold. We work with a third-party air quality testing company that conducts professional mold testing in Toronto. During an air quality test, samples are extracted from your business and analyzed at an accredited laboratory. Following the analysis, a report is generated that dictates whether mold is present or not, and if so, the type of mould along with the levels of mold. This report can be used for real estate transactions and legal matters. Once mold testing confirms that mold is present, mold removal in Toronto can begin.
Choosing The Right Mold Removal Services in Toronto
Hiring the right restoration company is crucial to effectively restoring your business back to pre-disaster conditions. We understand that time is crucial and are dedicated to quickly remediating the affected areas so that you may return to your daily business operations. At Canada's Restoration Services, we assign a project manager for each individual case. Our project managers and customer service team are available 24/7 to help answer any inquiries you may have. Our mould specialists are certified and highly trained experts that possess a minimum of 5 years of experience in the industry.
We are an award-winning company with over 10 years of experience. We have performed thousands of safe and succesful commercial mold inspections and commercial mold remediation jobs in Toronto. We offer the highest level of service and provide absolute transparency and honesty when dealing with our valued clients. Canada's Restoration Services is a licensed, trusted and reputable company with over thousands of happy home owners and business owners.