Bathroom & Shower Mold Removal
Bathrooms are a common area where mold is found in commercial and residential spaces. Washrooms, bathrooms, or powder rooms are susceptible to mold due to copious amounts of moisture and lack of ventilation. Mold is attracted to moisture-heavy areas as it provides areas to grow. Specific materials are also more likely to grow mold; wet cellulose materials like paper, ceiling tiles, wood, and cardboard. The mold will begin to eat away at these materials, breaking them down. It's essential to remediate this mold growth as bathrooms are a high-traffic area in any building, whether a home or an office building. When spotting mold, contact a professional for mold removal in Toronto.
At Canada's Restoration Services, we provide services like mold removal and water damage restoration in Toronto.
Species of Mold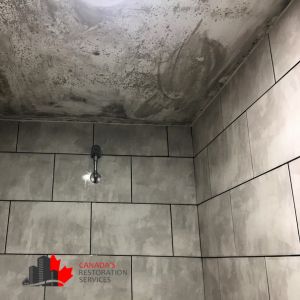 Here are a few common species of mold found in bathrooms:
Aspergillus: unlike most molds, this species can grow in minimal humidity, especially in areas that require water damage restoration in Toronto. Most mold growth cases in the city contain some sort of Aspergillus mold.
Cladosporium and Penicillium: These species have similar effects on the human body. Cladosporium specifically can grow in drier climates. Both species can be found in green, brown, or black.
Chaetomium: This species can only be found in damp or wet areas. It serves as a good indicator that water has intruded the home, which is a beneficial indicator when completing a mold inspection. The most common colours of Chaetomium are brown and black.
Stachybotrys Chartarum: This species is typically referred to as black mold. It requires humidity and wetness and can generally be categorized as toxic. It can be found on surfaces such as drywall, behind sinks or straw baskets. Due to its toxic effects, black mold removal with a professional restoration company, like Canada's Restoration Services is urgent.
How to Identify Mold in Your Bathroom
In some cases, mold can go unnoticed due to airborne spores. This results in health issues as we may be inhaling these mold particles. In other cases, mold can easily be spotted. The following are clear indicators that you are in the presence of mold:
Visual indicators: Mold growing on surfaces are inevitable as they appear as dark spots that can range in colour (blue, green, yellow, brown, etc.) They typically occur on walls, ceilings, tiles, bathroom fixtures and caulking.
Odours: If suspicious and musty odours come from your bathroom, that can be a strong indicator of mold growth.
Deterioration: Peeling paint, warping material, or deterioration can be a sign the material in your bathroom is being affected by mold. Mold will eat materials like wood or any other cellulose materials.
Health Associations of Mold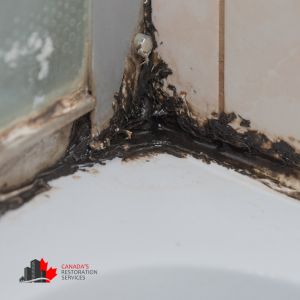 Inhalation of mold spores can negatively affect one's health. The most prominent symptoms resemble allergy symptoms like stuffy nose, sneezing, coughing, and hives. In severe cases, mold inhalation can cause infection, which can be detrimental, causing further complications. Mold inhalation can also cause asthma for individuals who already suffer from it or can develop it.
Guide to Bathroom Mold Removal
Many DIY remediation methods can be used to get rid of mold; however, it doesn't always get rid of the root of the problem. Cleaning the mold will only fix it temporarily. Call a professional mold removal company to alleviate your home entirely of mold. At Canada's Restoration Services, we have the proper tools and expertise to clear your entire home of this infestation.
Contact Canada's Restoration Services to have a specialist clear out your home of mold growth.
If you see mold in your bathroom, shower, tiles, or elsewhere on your property. Book a visible mold inspection with the Toronto mold removal specialists.