Mold Removal Coburg
Mold Inspections and Mold Removal in Coburg
Canada's Restoration Services is an IICRC certified and insured firm specializing in mold inspections and mold removal in Coburg. With over 10 years of experience, our certified project managers have a minimum of 5 years of experience. We have completed over 10,000 inspections and jobs nationwide. As an award-winning company, we have mastered the mold removal procedure and are dedicated to keeping houses and businesses mold-free. We conduct free mold inspections and provide transferable certificates on properties to new home buyers for mold remediation.

Book your free mold inspection today
1-888-551-0514
Mold Inspection in Coburg
Our certified project managers perform free mold inspections in Coburg and surrounding areas. A visual inspection is conducted by a mold professional, which includes:
a thorough assessment of the affected area

state of the art equipment utilized to determine moisture in hidden areas; for example, behind walls and ceilings

recommendations to instantly prevent additional mold from occurring
Once an inspection is performed, our certified project manager will consutrct a detailed scope of work report. The detailed scope of work report will outline our findings, recommendations, a plan of action moving forward and a free quotation. A mold inspection is required on visible and non-visible mold.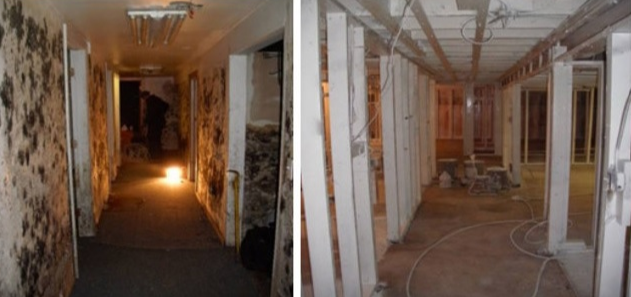 Mold Removal in Coburg
Our mold removal professionals carefully and precisely execute the mold removal process in Coburg. A team of highly trained professionals adhere to industry standards and guidelines to ensure that mold is removed effectively and safely.
We utilize personal protective equipment for safety purposes. Mold remediation needs to be performed by highly trained professionals. The mold removal process begins with:
Isolating the area. Once a containment is set up, we prevent mold spores from spreading in other unaffected areas. This helps keep you and your family protected.
Capturing mold spores. We set up HEPA vacuums and air scrubbers around the containment to capture all mold particles and spores.
Sanitizing & Disinfecting. We clean the affected areas using microbial solution. We sanitize, deodorize and disinfect all affected areas to ensure that your home or office is clean and safe. All affected furnishings and belongings are sanitized and restored.
Clearance. We provide secondary clearance to ensure that the mold has been effectively and completely removed.
Cost of Mold Removal in Lindsay
Home owners and business owners should be aware that basic home owners insurance does not cover mold. However, other premium insurance policies may cover mold. Canada's Restoration Services works with every insurance company in Canada and can assist with the entire process - from start to finish.
Mold removal costs vary on a few factors including:
where the mold is located

what is affected by the mold

how much mold there is

the method of mold removal executed
Found mold in your home or office?
Call now

1-888-551-0514