Why Choose An IICRC Certified Professional for Montreal Asbestos Removal?
When choosing how to conduct asbestos removal in Montreal, there are plenty of options to choose from: from big companies to small independent service options. There are even asbestos kits being sold in retail stores that make DIY asbestos abatement an accessible choice. With all of these possibilities, it's easy to wonder why one should choose an asbestos removal company that is IICRC certified?
Read on to see why you should always choose professionals for asbestos testing in Montreal and what to look for in an asbestos removal company.
Safety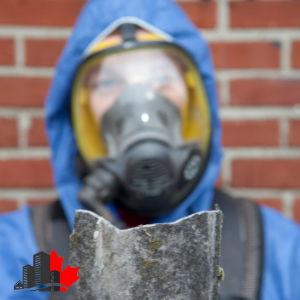 Once released into the air, asbestos is hazardous. Inhaling asbestos fibres can lead to short-and long-term illnesses or health repercussions, including asthma and cancer. With these risks at stake, asbestos shouldn't be handled or disrupted by just anyone, as it can lead to the release of asbestos fibres.
Professionals are trained to carefully collect and remove asbestos materials without disturbing the material and releasing fibres into the air.
Complete Job
Asbestos was heavily used in all types of building construction, including drywall, shingles, flooring, HVAC and a whole host of other materials. It can be challenging to determine where the asbestos is located inside your home as asbestos cannot be easily identified visually. At Canada Restoration Services, we carefully and precisely remove asbestos entirely without provoking a disturbance to its fibres.
Training
The IICRC provides certification for professionals who have undertaken the necessary training and shown that they can safely handle asbestos. To protect your home, family, and the team involved, it's safest to hire somebody with the necessary training.
Customer Service
Customer service and good communication are vital when choosing an asbestos abatement company. Throughout the process, you'll constantly need to get updates on the status of lab results, the abatement process, safety procedures and more. Good customer service will ensure that you're frequently updated on the state of the asbestos removal process and answer any follow-up questions or concerns you may have.
Speed
The asbestos abatement process should be completed as quickly and thoroughly as possible to prevent exposure and minimize disruption to everyday life. Good contractors aim to complete the process as quickly as possible while maintaining the high-quality standard required during asbestos removal. At Canada's Restorations Services, we offer prompt turnaround times without compromising the quality of work.
Insurance
Asbestos removal can be a complicated process where a number of things can go wrong - including accidental exposure, not removing all asbestos in a building and more if left in the hands of the wrong person or company. The company carrying out the inspection and abatement should carry insurance in the event of an accident.
Testing and asbestos removal in Montreal is a hazardous and intricate procedure that requires experienced professionals to carry out. It's essential to hire a company with the certification, training and experience to safely carry out these procedures.
If you think there may be asbestos in your home, contact Canada Restoration Services for asbestos testing in Montreal to get started on asbestos removal today.