Asbestos Testing and Removal Services in Toronto, GTA
Canada's Restoration Services is Canada's #1 Asbestos Removal Company. We have completed thousands of asbestos and vermiculite jobs in Toronto. As a leader in the restoration industry, we provide our valued customers with reliable and quick restoration services in the GTA for residential and commercial buildings. Canada's Restoration Services has highly trained IICRC certified professionals performing asbestos testing and asbestos removal in Toronto. We offer free asbestos inspections in Toronto - asbestos inspections in Toronto can cost up to $600.
Book your free asbestos inspection today
1-888-551-0514

What is Asbestos
If your home or building has been built before the 1990's, there is a possibility that it may contain asbestos. Asbestos is a naturally occurring mineral that was a widely used building material, specifically for asbestos insulation. Asbestos fibers are released into the air once asbestos has been disturbed and is extremely hazardous for you and your family.
The longer you are exposed to asbestos, the more harmful it is to your health. By slightly disturbing the asbestos, it can easily create a hazard. Working with or disturbing any asbestos-containing material can cause serious harm to you and your family. Breaking or cutting asbestos-containing material, for example, can lead to the contamination of your home. Symptoms of asbestos exposure include difficulty breathing, coughing, chest pain, and discomfort.
Asbestos Testing in Toronto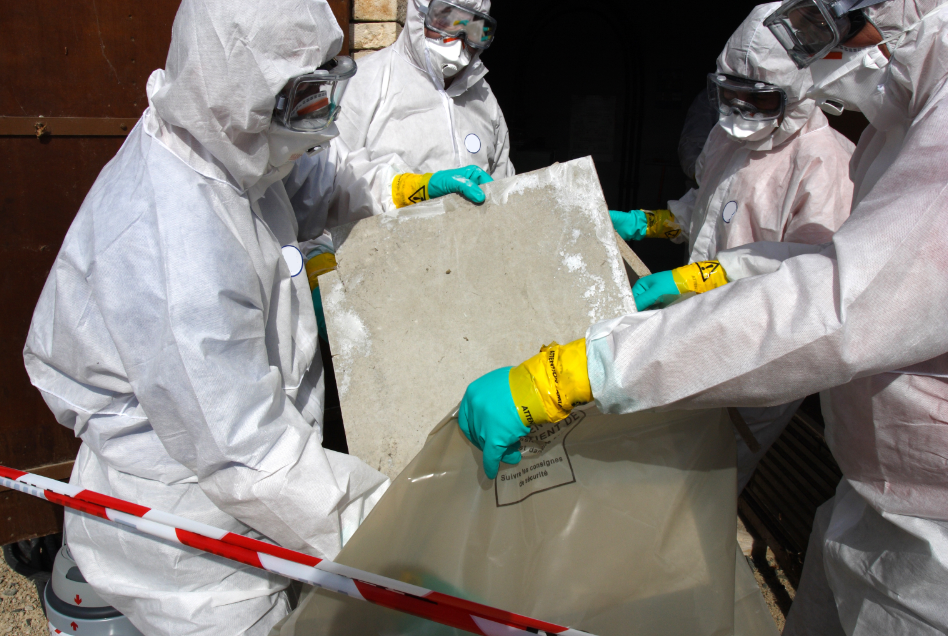 For professional asbestos testing in Toronto, it's important to hire a service team that is trained and certified. In Toronto and the GTA, Canada's Restoration Services provides a comprehensive approach – from asbestos testing services to complete asbestos removal.
We offer professional asbestos testing in Toronto for both residential and commercial property owners. With asbestos (or with asbestos-laden materials) there can be cause for concern, and oftentimes there are potential health dangers for residents and occupants. Working with Canada's Restoration Services, property owners are assured of work that's done right. When dealing with asbestos, it's not a good time to undertake a DIY effort. Asbestos issues require experience and expertise, and the work is best left to professionals.
Asbestos testing is required to determine if asbestos is present in your home or business. A sample of the asbestos will be carefully taken by a certified project manager. This sample will be sent to an accredited asbestos testing lab where they will test the asbestos. The results are received within 48 hours and a detailed report will present a different kind of asbestos and the percentage of asbestos fibers there may be in the asbestos material.
We advise homeowners and business owners to call Canada's Restoration Services to perform asbestos testing in Toronto and the Greater Toronto Area. Having an asbestos sample taken by an unqualified company can disturb the asbestos and create contamination through your home. Following an asbestos test by Canada's Restoration Services, we will conduct a free asbestos inspection where we will assess where the asbestos is located in your home, the damage and destruction it has created and develop a report. This report is a detailed scope of work which includes our findings and our solution. Asbestos abatement can begin as soon as asbestos has been confirmed with an accredited asbestos testing lab report.
Professional Asbestos Testing Services Throughout the GTA
With countless companies offering asbestos abatement services, it's very important to choose a qualified service team. At Canada's Restoration Services, our in house asbestos experts follow strict safety protocols and industry guidelines. We do our best to prevent any cross-contamination so that residents and/or occupants aren't exposed to health risks.
During our asbestos testing procedure, we provide asbestos samples for a charge to a third-party lab to verify the materials – this is a mandatory part of our procedure. In addition, we provide customers with a cost estimate on the work involved. When asbestos removal is complete, a formal certificate of work is provided (the certificate is transferable for the property).
As a procedure, asbestos removal is complex. A team of experienced and certified technicians must undertake this work. Most importantly, comprehensive safety precautions must be taken to protect from asbestos fibers. Property owners should never remove asbestos on their own – the potential health and safety dangers are simply not worthwhile.
Asbestos Abatement in Toronto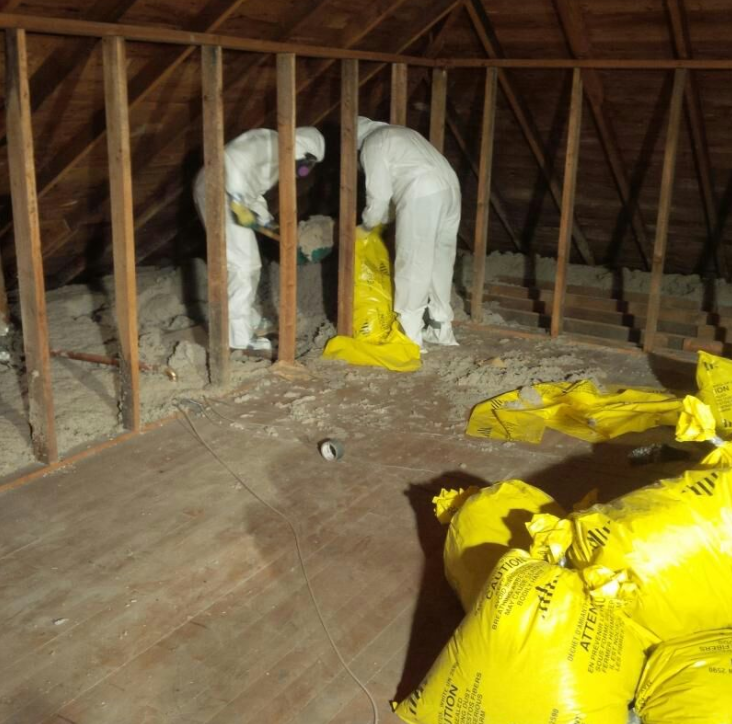 Once asbestos has been confirmed, asbestos abatement can begin. Our certified project managers follow a strict procedure and guideline for asbestos removal in Toronto. The asbestos specialist will follow the asbestos removal procedure depending on various factors including the type of asbestos, where the asbestos is located, and how much asbestos there is. There are three main types of asbestos:
Type 1 - Chrysotile: Referred to as white asbestos and is the most commonly encountered asbestos. It is often contaminated with amounts of tremolite and is extremely hazardous. Chrysotile asbestos can be commonly found in asphalt, roofing materials, and textiles.
Type 2 - Amosite: Referred to as brown asbestos and was commonly used in cement, insulation, tiles, and roofing.
Type 3 - Tremolite: Colours range from white to dark green. Tremolite is responsible for many asbestos-related illnesses and is commonly found in paint, plumbing materials, insulation, and roofing.
Keeping you safe from asbestos exposure is our main priority. We take extra precautions to ensure that the asbestos fibers do not spread across the home or business. Our restoration experts are extensively trained and certified in:
Classification of Asbestos Operations

Use of Personal Protection Equipment

Asbestos Decontamination

Safety Work in Affected Area

Proper Handling & Disposal of Asbestos Waste
Canada's Restoration Services Offers a Comprehensive Process
As the asbestos professionals in the region, Canada's Restoration Services provides a step-by-step process when it comes to asbestos abatement. We service both residential and commercial properties and engage the property from the roof to the basement. It's a comprehensive process that includes everything from insulation, to plumbing, to ductwork, and even the HVAC system.
• Inspection: During the inspection process, with a cost, asbestos samples are sent to a 3rd party laboratory
• Work Scope: We prepare a detailed scope of work and follow the process through to completion
• Containment: With asbestos, negative air machines and air scrubbers allow for full containment
• Removal: Asbestos removal involves the safe removal/disposal of asbestos waste materials
• Clean Up: Technicians ensure that remnants of asbestos fibre and dust are totally eliminated
• Clearance: An independent 3rd party will provide clearances on removal and remediation work
The asbestos removal procedure begins with inspection and set up containment. This prevents contamination in the rest of your home or business. After the containment has been set up, Canada's Restoration Services professionals will place negative air pressure machines to prevent contamination of air outside. A HEPA filter is utilized as well to keep asbestos from becoming airborne. We also double wrap and wipe down all affected materials and use an asbestos safe waste disposal to prevent any asbestos fibers from escaping. Once the asbestos removal procedure is completed, we present to you an asbestos certificate that guarantees that the asbestos on the affected material has been removed.

For Asbestos Testing in Toronto Trust Canada's Restoration Services
At Canada's Restoration Services, in-house technicians provide asbestos testing services for customers throughout the GTA. Our people are IICRC certified and experienced in all aspects of asbestos abatement. Whatever the size of the project, we ensure 100% customer satisfaction.
When required, Canada's Restoration Services has a company division that can provide urgent service around-the-clock. For asbestos testing, removal, and remediation call 1-888-551-0514
Speak to an asbestos expert today
1-888-551-0514