How to Avoid Asbestos Exposure
The best way to avoid asbestos exposure is to wear proper protective gear or employ preventative measures. Asbestos is a serious matter and should be treated as such from your first suspicion that the mineral is present. If you know your property was built between 1960 to 1990, asbestos inspections from a professional restoration company is the most effective way to gauge the situation.
If you intend on renovating an older home, scheduling an inspection should be a high priority before any construction begins. If testing results in evidence of asbestos present in the property, asbestos abatement is an urgent necessity. Trained professionals should conduct asbestos removal for a safe and stress-free experience.
Asbestos Abatement Before Any Construction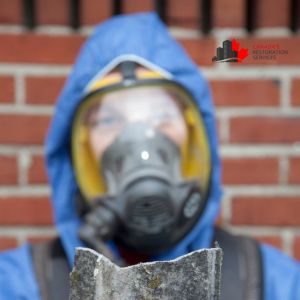 It is imperative to have asbestos removal before any work is performed on a commercial or residential property. At Canada's Restoration Services we are well-versed in the protocol to safely remove asbestos and ensure we do it according to legal regulations. We deploy full containment under negative pressure along with decontamination chambers and showers; this is necessary to ensure the asbestos abatement is performed safely and thoroughly.
Skip the Asbestos Removal Kits
Often when a property requires large-scale asbestos removal, it can become quite costly, which may entice you to consider kits for asbestos removal. We highly recommend not using an asbestos removal kit, as this may result in asbestos exposure. Staying healthy and safe needs to be your number one priority.
Asbestos Abatement with Leading Restoration Companies
Contact Canada's Restoration Services for a free asbestos inspection and allow our professional asbestos removal services to help keep your home or business safe. Our trusted professionals will remove the hassle, stress and worry of asbestos removal.