How to Stay Safe During Asbestos Removal Toronto
Whether it's the result of a professional asbestos inspection in Toronto or a chance encounter, discovering deposits of asbestos in your property is frightening. The number top priorities during asbestos removal in Toronto are safety of anyone in the vicinity and safety of your property, and in most cases those two concerns are related. Without the proper safeguards are in place, asbestos removal can lead to contamination and illness. In every asbestos abatement job Canada's Restoration Services, takes serious and strict measures to ensure safe processes. Using more than a decade of experience, our industry expertise, specialty training, and government guidelines, we implement many safeguards to optimize asbestos removal in Toronto, Vaughan, Mississauga, and the surrounding areas.
Here's our multi-step approach for safe asbestos removal.
Risk of Asbestos Exposure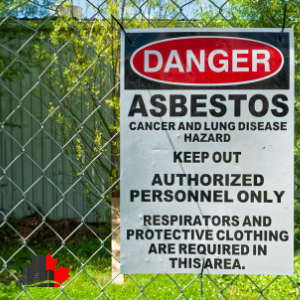 Loose asbestos fibres travel and divide quickly, clinging onto clothing, fabrics, and other surfaces in its path. As asbestos fibers travel through the air, are easily ingested or inhaled unknowingly by anyone in its vicinity. Once in the body, the rigid fibres scar lungs and tissues through the digestive tract and respiratory system, leading to chronic illness such as lung cancer, mesothelioma, and asbestosis. Taking proper care from the start with a careful and certified asbestos abatement company, such as Canada's Restoration Services will help eliminate the hazardous material and minimize its threat.
Asbestos Inspections & Testing
When a property has asbestos-containing materials in one area, the chances of there being more are higher. Asbestos inspections in Toronto allow a trained technician to carefully assess the entirety of a property to identify any potential asbestos contamination. In doing this, we are able to offer a comprehensive approach to removal. During inspections, samples are collected and sent out for 3rd party testing, where the contamination percentage and type of asbestos is determined. Third-party asbestos testing ensures that there is no conflict of interest in our results and allows us to accurately assess the risk level of asbestos on your property.
Asbestos Classifications
There are 3 types of asbestos classifications: low-risk (type 1), medium-risk (type 2), and high-risk (type 3). It's crucial to note, even when asbestos removal in Toronto is considered low-risk, the mineral fibres still pose a risk to the people in the vicinity and should be treated with extreme caution. Based on each designation, asbestos abatement crew will contain the area, post signage, and use airlock seals for secure disposal of any asbestos-containing materials.
Keeping you safe from asbestos exposure is our main priority. We take extra precautions to ensure that the asbestos fibers do not spread across the home or business. Our restoration experts are extensively trained and certified in:
Use of Personal Protection Equipment
Asbestos Decontamination
Safety Work in Affected Area
Proper Handling & Disposal of Asbestos Waste
Our Approach to Safe Asbestos Removal in Toronto
To ensure asbestos removal in Toronto is safe for your property and its occupants, our expert technicians leverage a range of advanced techniques and technology for full containment, including negative air pressure, decontamination chambers, and special asbestos showers to ensure everyone is free of contamination.
During asbestos inspections, the team wears highly-effective protective gear including disposable jumpsuits, shoe covers, full courage respirators, and double gloves.
To keep fibres from becoming airborne, any asbestos-containing materials are sprayed throughout the abatement process with a special binding agent to keep them wet. As the hazardous materials are wet, they are placed in durable caution bags and securely sealed. Following asbestos removal, all waste materials are disposed of off the premises in designated hazardous waste facilities.