Attic Mold Removal
We provide a twenty five year warranty for mold removal and remediation (in attics) if allowed to perform the protocol and procedures as well as working with a trusted insulation removal company.
The only company to provide 25 years warrenty for attic mold removal!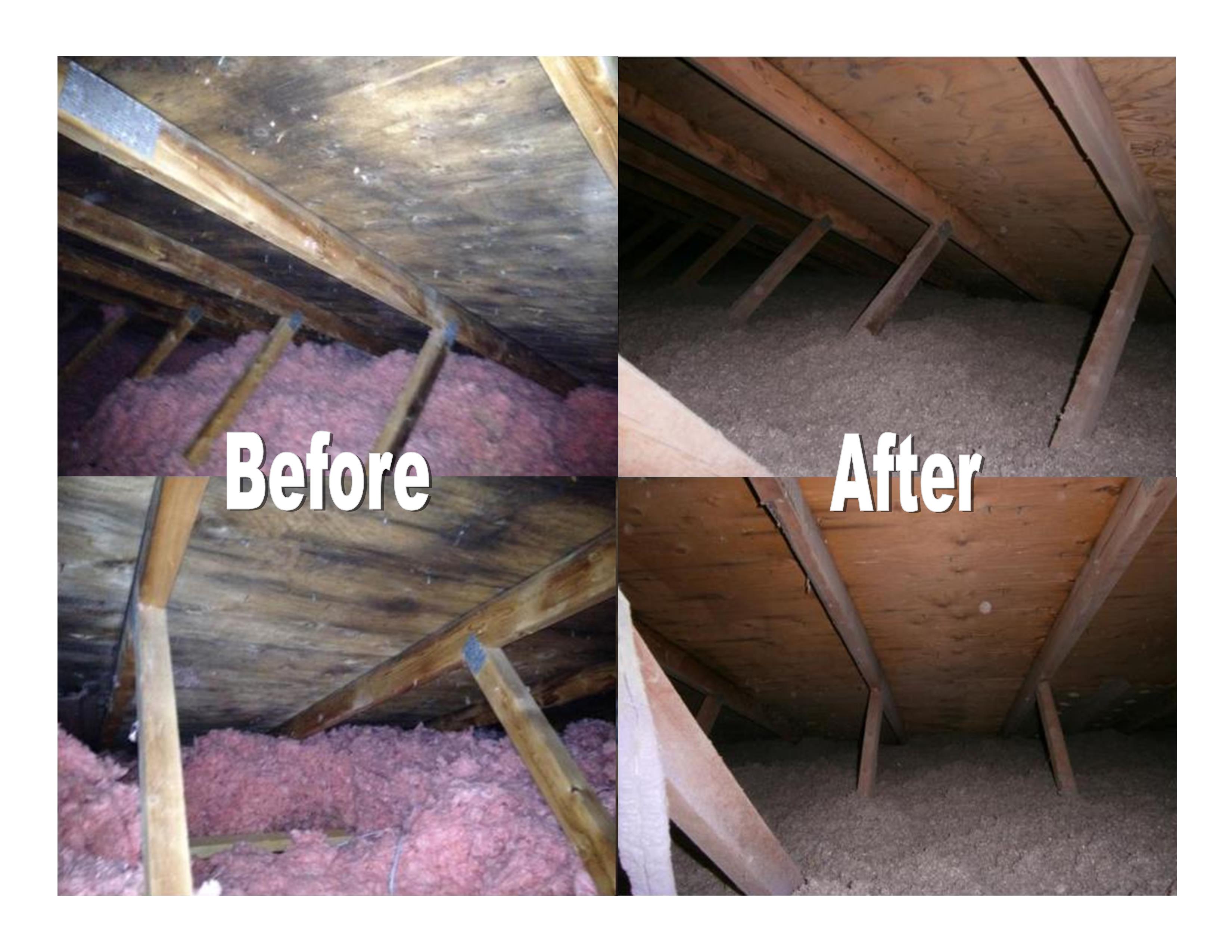 Many companies have tried a few different ways to address mold in the attic.
·
Some try and cover or seal it with paint – does it work?
No it doesn't
……………
What will the home inspector say about it when the house goes on the market or what will happen to the paint if water and humidity crack the seal? Also once a layer of dirt covers the seal the mold can actually grow on the layer of dust or dirt.
·
Some try and "kill it" by fogging …… - does it work?
No it doesn't
, Dead spores also release toxins and once there is a moisture source the spores can become viable again. The spores need to actually be removed a hepa vacuum is necessary for this to happen.
·
Some try insulate over it……………- does it work?
No it doesn't …
If you cover it up it doesn't make it go away and often what we can't see we allow to get far worse than what we see every day and attics often go unnoticed for long periods of time. "Out of sight, out of mind, right" No You need to correct these problems as soon as they are noticed and make sure that the contractors are using are first and for most licenced and qualified and understand the building envelope, also that they are informing you on what they find, provide pictures in every step, because it is likely you will not go up there yourself and may not know that they are covering up a serious mold problem with many health risks associated with it. If they find mold they need to have a company that has expertise and IICRC/Clean Trust Certification and training to effectively remove and remediate the mold before they can continue.
The correct way to remove mold in the attic:


An inspection by an experienced inspector who is IICRC certified and trained in Mould needs to be done. Thermal imaging is necessary to do a proper and thorough inspection, moisture meters and hygrometers may also be needed.

Identify the source, this may be able to be done at this point, but more sources may have to be determined after the insulation is sucked out and the vapour barrier is removed.

Proper containment needs to be set up, also negative air machines need to be installed, this seals off the attic and prevents the mold from spreading to the rest of your home.

Media Blasting can now be performed, either soda blasting or dry ice blasting. This is the only effective way to remove mold from your attic and will get into all of the nooks and crevices that otherwise would never be reached.

Hepa Sandwich is the only way to effectively remove all of the mold spores. This is done by hepa vacuuming your attic, then cleaning and then hepa vacuuming again. This may need to be done several times throughout the entire process. Also air scrubbers (negative air machines) need to be running which will also aid in the removal of the mold spores.

Another Inspection needs to be done at this time to determine any other potential problems you may have in your attic. Also to determine what needs to be done to eliminate any issues that you may have in the future. Come up with a scope of work for the reconstruction.

Reconstruction can now be started. Once all of the problems are fixed, whether you need more soffit vents added, or you need a new roof these issues all need to be addressed and fixed then vapour barrier and proper insulation can be blown back in.

Another Inspection can be done at this point with thermal imaging to ensure that all cold or hot spots were eliminated and any other problems were address effectively. So that mold will not return in the future.
At this point Canada's Restoration Services can provide you with a guarantee that the mold has been effectively removed and will not return, as long as a new source is not created causing new mold growth.
Our Teams in Toronto and GTA as well as Ottawa, Montreal, Laval and surrounding areas can give warrenty for mold removal and clean up in attics.

Call us for a free inspection - 1-888-551-0514