Mold Testing & Removal in the Vancouver Area
Finding mold can be a scary situation. No matter where you are, stumbling upon mold is alarming. Not only is its strong, pungent odour unpleasant, mold pollutes indoor air quality, which can result in health issues and even structural damage. Putting your families or loved ones health in jeopardy is never ideal. Mold can be a hazardous material, if not contained and properly treated. It has many health affects associated with it and is known to cause unexplained coughing and sickness. This is why it is vital to call a professional to remove and remediate mold issues.
With the proper certifications and education, professionals, understand the harsh reactions of mold and how to remove it safely. Canada's Restoration Services has IICRC trained for professional mold removal in Vancouver. Whether it's for commercial or residential properties our team has the experience to eliminate mold safely from your space.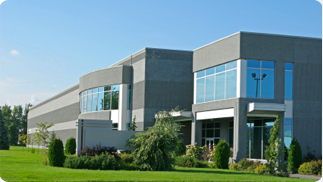 Commercial Property
Typical Commercial Property Concerns
What are the Health Concerns?
What is the Procedure?
Finding and Fixing the Source
Time & Costs

Is Mold Dangerous?
There are hundreds of mold species that exist naturally in our environment. The health effects of mold and its impact vary depending on the species. Mold exposure can lead to mild - severe allergy-like symptoms, headaches, and even nausea. Black mold or toxic mold exposure is known to have the worst effects on health. But, with early detection, and mold testing in Vancouver, its implications can be minimized.
Visible mold in Your Residential or Commercial property?
Get a Free Mold Inspection From Canada's Restoration Service!
During comprehensive mold inspections, our IICRC certified technicians will:
Identify the Source of Mold: Many factors contribute to mold indoors, mainly moisture, darkness, heat, and organic feeding materials. At CRS we will determine which of these conditions are creating a problem and why.
Assess the Scope of Mold: Before beginning mold removal in Vancouver, a technician will carefully inspect the area where mold has been uncovered to determine where else it may have spread. Typically mold is not easily identifiable, especially when growing in the nooks and crannies of a property without the help of a professional.
Next Steps & Recommendations: Based on the results of an inspection, you will receive recommendations on the best next steps for you and your property. If mold looks suspicious, technicians may recommend mold testing in Vancouver to determine the species of mold found. Our recommendations are based on years of experience and expertise.
Prompt Mold Removal Estimates: Once you know the best plan of action, Canada's Restoration Services team will quickly provide estimates for mold testing and mold removal in Vancouver. Our mold removal costs are affordable. And to help manage the costs of mold removal in Vancouver, we offer free in-house financing.
Mold Removal in Vancouver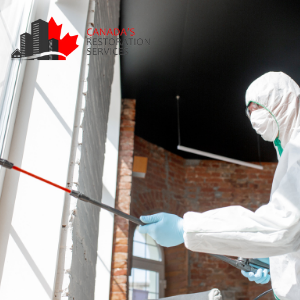 Depending on the scope of your mold infestation, the duration of mold removal in Vancouver varies. At Canada's Restoration Services, we understand the importance of returning to a mould-free property. That's why we specialize in fast and comprehensive mold removal.
How Do You Tell If There is Mold Infesting Your Space?
Mold will typically present itself with an undeniable musty odour. Unfortunately, this sign only presents itself after a large outbreak. More often than not, mold infestations can be smelled but not seen as they're commonly uncovered in the most hidden and out of reach areas of a property.
Common Areas Where Mold is Found
If you see or smell mould around your Vancouver property, the time to act is now. Mold spores can be virtually anywhere, but they typically flourish in dark, warm spaces that are humid and have little to no airflow. Mold testing in Vancouver is needed more frequently in rooms exposed to any combination of these conditions.
Bathrooms
Kitchens
Attics
Basements
Crawlspaces
Mold that goes undetected in the hidden areas of a home or commercial space can grow uninhibited when exposed to water and organic materials like insulation, drywall, or even paper. To stay on top of mold infestations, it's helpful to reduce and monitor humidity indoors, improve ventilation, and conduct preventative mold inspections regularly.
Contact Canada's Restoration Services For a Full Range of Mold Services in Vancouver. From Inspections and Testing to Removal and Clean Up, we've got you covered.