Mold Testing and Mold Removal in Montreal
Canada's Restoration Services is an award winning mold removal company specializing in mold inspections, mold removal and mold remediation. We are an IICRC certified company that has completed thousands of residential and commercial mold removal jobs. We are aware of the dangers that mold possesses and are dedicated to providing professional and affordable services to homeowners and business owners in the Montreal area.
Call us now for a free mold inspection
1-888-551-0514
Mold Testing in Montreal
When addressing mold, the first step that needs to be taken is to get the mold tested. An air quality test is a tool that is utilized to detect non-visible mold in your home or business. Air quality tests are used to idenitfy if mold is present by examining the mold spores in your home and the amount of mold spores. This will determine whether or not the mold in your home is dangerous for your health. The test is sent out to a lab and results are retrieved within 48 hours. A report is given to the customer outlining the findings.
The report is needed for Canada's Restoration Services to move forward with the mold removal in Montreal. Air quality tests are performed by third party companies in order to avoid conflict of interests.
For information on how to get rid of mold, click here.
What is Mold
Mold or mould is an organic fungus that can form with the help of two factors: a constant source of moisture and a lack of air flow. Toxic mold can have a negative impact on one's health. Mold is not always visible and thereby can not always be detected with the human eye. Exposure to mold can cause mold symptoms, which includes allergen reactions, coughing, sneezing, nausea and respiratory problems.
Common places where mold can be found include: basements, cellars, attics, crawl spaces, garages and laundry rooms. Mold can also form after a moisture problem has occured in your home or business, such as:
flooding

water leaks from roofs

storms

leaking pipes and sewer damage

burst pipes

old windows and doors
Water damages should also be addressed immediately by a professional water damage company. Mold can begin to grow 24 hours following a water damage if the standing water has not been cleaned properly and quickly.
Speak to a mold expert today
1-888-551-0514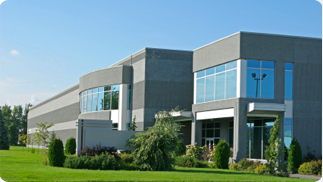 Commercial Property
Typical Commercial Property Concerns
What is mold?
What is the mold procedure?
Finding and fixing the source
Time & Costs