Managing The Cost of Asbestos Removal in the GTA
Typically the thought of asbestos testing and asbestos removal occurs prior to a renovation or during construction if someone unknowingly encounters a building material they suspect is contaminated with asbestos. In any of these cases, whether residential or commercial, you're already dealing with the expense of construction. When there is an added risk of asbestos, delays follow, costs increase, and stress multiplies for all involved parties. Manage asbestos removal costs with the help of Canada's Restoration Services.
The hassle of these added issues can leave some wondering, are the costs of testing for asbestos and abatement really worth it?
Is Asbestos In Your Home?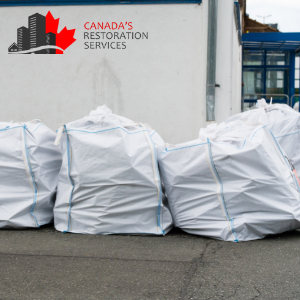 While it's banned now, asbestos was commonly used in various building materials prior to the 1990s in Toronto, Vaughan, Ajax, Mississauga, Newmarket, Brampton, Hamilton, Markham, Pickering and other GTA cities, before its dangers and health risks were well-understood. If your home was built between the 1960s and 1990s, it's quite possible that asbestos could be lurking just beneath the surface. In this case, professional asbestos testing is a smart, proactive step as it can identify hidden asbestos before it becomes dangerous.
When is Asbestos Dangerous?
Untouched or undisturbed asbestos is not harmful to people, but the problem is that it is usually uncovered during renovations, home upgrades, or demolitions. When asbestos is disturbed in these situations, from getting wet, cut, or other abrasions, its fibres become airborne very easily. Once released, asbestos fibrils divide and multiply, priming them for inhalation. The fibres are carcinogenic, which means comprehensive and safe asbestos removal should happen before this point.
When you test your home or commercial property for asbestos, the team at Canada's Restoration follows safe practices to prevent contamination and fast comprehensive asbestos removal.
What Affects The Cost of Asbestos Removal?
As expected, larger areas require more resources to effectively abate asbestos-containing materials (ACMs), and intricate areas require more time and labour while also necessitating an even more careful approach to ensure everyone's safety.
The cost of asbestos removal will also be determined by the percentage of asbestos in the ACMs: the higher the asbestos content, the more it will cost.
The cost of asbestos removal will also be influenced by the removal method, the province you're located in, and the type of material. The process will typically be estimated following inspections and asbestos testing. At Canada's Restoration Services, our safe and comprehensive asbestos removal services start at the affordable rate of $500.
How Canada's Restoration Services Can Help Manage Costs of Asbestos Abatement
Asbestos removal in Canada is usually an unplanned expense that can quickly add up on top of renovation and construction costs. However, asbestos abatement is not a matter of convenience or enhancement. It's a necessity. Removing asbestos-laden materials before they are disrupted is a matter of protecting everyone from contractors to family, and friends.
Don't wait - abate.
If you think your home may be contaminated with asbestos, call Canada's Restoration Service for asbestos testing to identify any risk and get it removed as soon as possible. At CRS, we IICRC certified and engage in safe, careful asbestos removal processes to protect you and your property.
Call us today to get started on asbestos testing in your home