Guide To Finding A Professional for Asbestos Removal in Edmonton
A professional can make all the difference when it comes to asbestos testing in Edmonton as well as asbestos removal. If handled incorrectly, asbestos is a hazardous material capable of causing long-term health conditions like cancer. If you are doing work around any residential or commercial space, don't try to manage asbestos yourself. The safest option is to choose certified experts like the team at Canada's Restoration Services to ensure abatement goes smoothly. If you suspect asbestos is in your home, an online search will locate many local options for asbestos removal in Edmonton, but how do you decide who to pick?
Below, we outline the features and qualifications you should use to find the best company for asbestos-related services in Edmonton.
Experience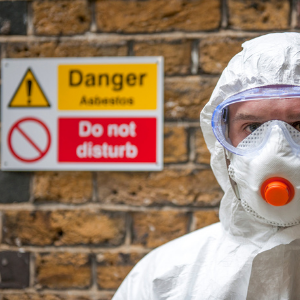 When looking for an asbestos company, one of the main differentiators of a good company that does quality asbestos removal in Edmonton from the others is experience and knowledge. Companies with more experience often have a more practical understanding of locating asbestos, the best abatement procedures, and common challenges. On the opposite end, companies with limited experience may not be able to provide the same level of service and have longer turnaround times.
Certification
One of the easiest ways to determine if a company is equipped for asbestos testing in Edmonton and abatement is to have the appropriate certification. All companies and personnel must have OHS certification when performing Type-3 abatement removal. In addition, the IICRC provides numerous optional certifications which teach participants how to effectively perform asbestos abatement. Look for either of these certifications when choosing a company. At Canada's Restoration Services, all our personnel are certified to provide asbestos-related services in Edmonton.
Response Times
Response times are indicative of the level of customer service you can expect to receive from the company. When requesting information, if the response times are slow and far between, likely, that will also be the case when the company is carrying out an asbestos inspection or abatement. As the process can significantly alter living situations for a while, ensure you work with a company that can provide timely updates and reliable communication.
Testing
Usually, a company will collect samples from all areas where asbestos is suspected and send those samples to a third-party lab. Ensure the company is willing to do a thorough inspection of your home. Transparency is key to a successful relationship with your asbestos abatement company.
Full-Service
The most cost-effective way to perform an asbestos abatement is to find a company that can provide a full range of services. This includes inspections of the space, sample testing, and comprehensive abatement services. Choosing a company that either does an inspection or abatement can take much longer and be more expensive in the long run.
Works with Insurance Company
To help make the asbestos abatement a smoother process, look for a willing to work with your insurance company. Most home insurance packages provide compensation for any asbestos-related work being completed.
At Canada's Restoration Services, we have decades of experience, excellent customer reviews, and certified professionals who can help you ensure that your buildings and people are safe.
Contact us today for fast, safe, complete asbestos insepctions and removal in your Edmonton home!