Mold Inspection & Remediation Montreal
Call for a Free Mold Inspection in Montreal - 1-888-551-0514
Canada's Restoration Services in Montreal have 24/7 staff to provide you with a clear understanding and guidance in dealing with any mold related issues.
Canada's Restoration Services experienced and certified IICRC technicians perform mold removal projects daily. You can only expect the best from our Mold Removal Experts in Montreal with effective removal of Mold Spores and growth from buildings, homes and personal possessions. Canada's Restoration Services operating in the Montreal Areas often work with 3rd party experts such as hygienists and certified inspectors in order to prevent a conflict of interest.
If you suspect you have mold, Call Montreal's #1 Mold Removal Experts for a Free Mold Inspection!
1-888-551-0514
No matter how big or how small, we can help!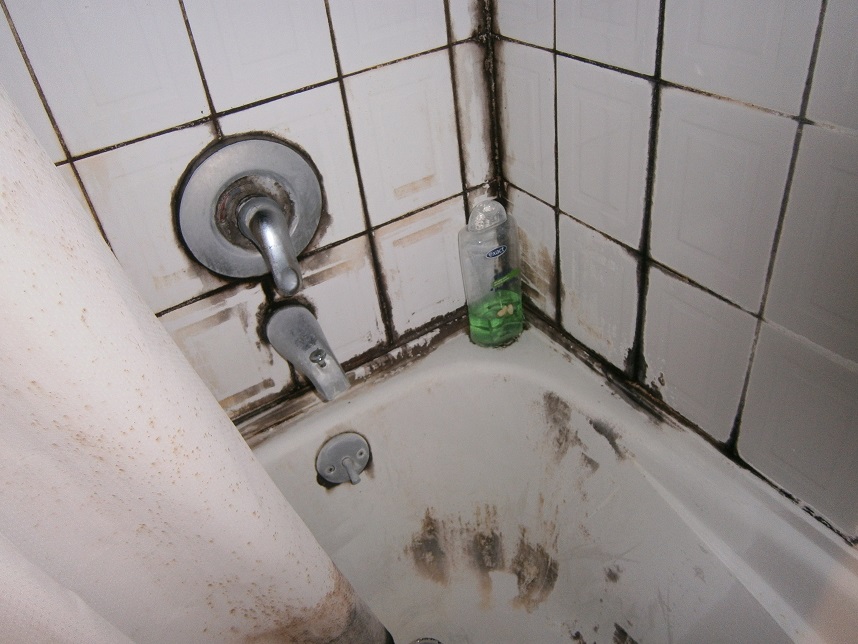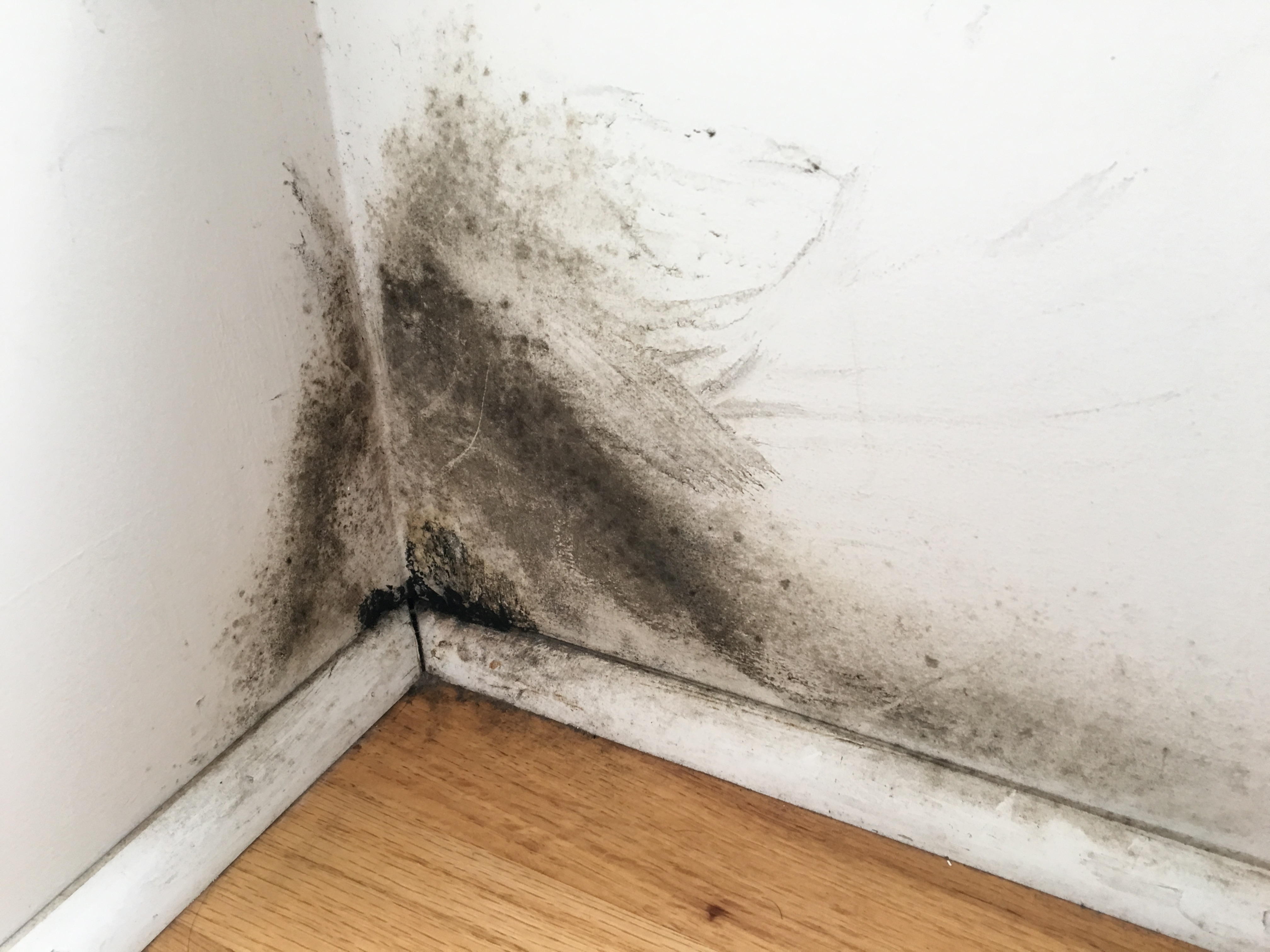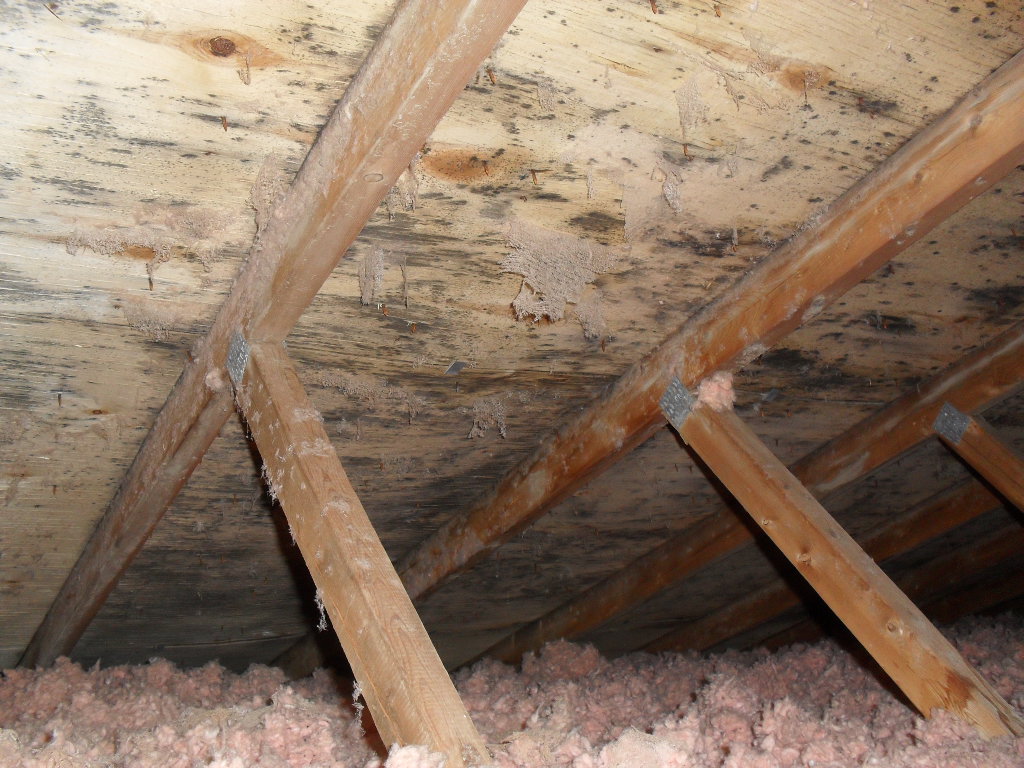 Mold in the Bathroom Mold on the Drywall Mold in the Attic
There are many types of toxic mold which create health and structure hazards found in ceilings, walls, carpets, crawl space, basements, etc. The effects on the health and safety of individuals within the indoor environment can be crucial. Mold can be destructive to your immune system. Every day, people experience unpredicted sick symptoms and allergic reactions like dizziness, nausea, weakness, sleeplessness, headaches and prolonged flu-like symptoms - seemingly without reason.
For more information on Health Affects that mold can have, Click Here
Canada's Restoration Services answers the need for excellent air quality at home and at work, with Years of Mold Remediation Experience. We provide complete Mould Removal & Cleanup Services, scopes of that are presented to the customer or written by a 3rd party, all in alliance with the IICRC guide lines for Mould Removal and Mould Remediation.
WHY CHOOSE CANADA'S RESTORATION SERVICES:
| | |
| --- | --- |
| | 24/7 staff to handle all your Needs |
| | IICRC "Clean Trust" Proudly Certified |
| | Fully licensed, insured and bonded, with 5 million pollution liability |
| | Price Match Guarantee, should estimates follow IICRC guidelines |
| | FREE in house financing up to 24 months, on approved credit |
| | With your health in mind, we only used plant based products |
| | Certificates provided on all work that we perform |
| | Preferred contractor of Mike Holmes, Makes it Right |
| | Rated the Top Restoration Company of 2015 |
This is the preferred process to achieve complete mould purification:
Free visual evaluation of potential visible Mold upon your request
Mold examination and lab testing
Defiling the scope of work
Mold Decontamination & Mold Spore Removal Procedures using `green` materials:
* If you have a small area that needs mould and mildew sanitizing; we seal off the affected area to prevent the spread of spores then perform mould sanitizing procedures.
* For a larger contaminated area, we create a containment barrier which seals off non contaminated area and sanitize the affected are.
3rd party Mold Air & Surface testing to verify job done well.
Mold Damage Repair with our reconstruction department.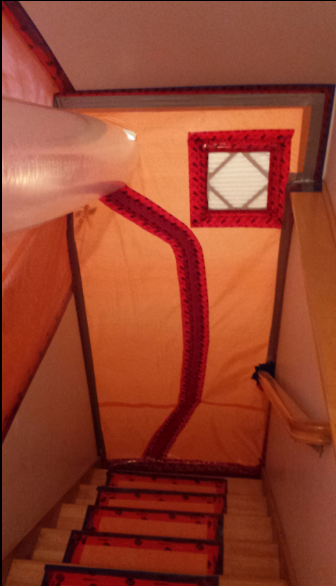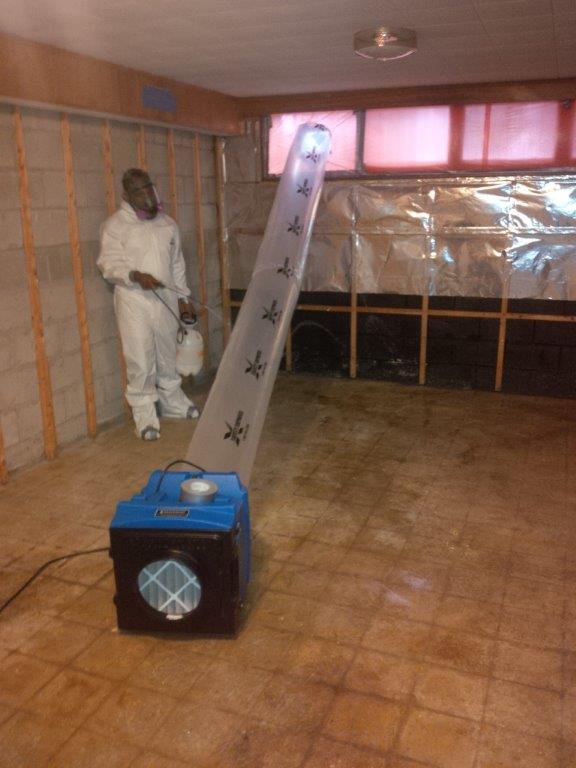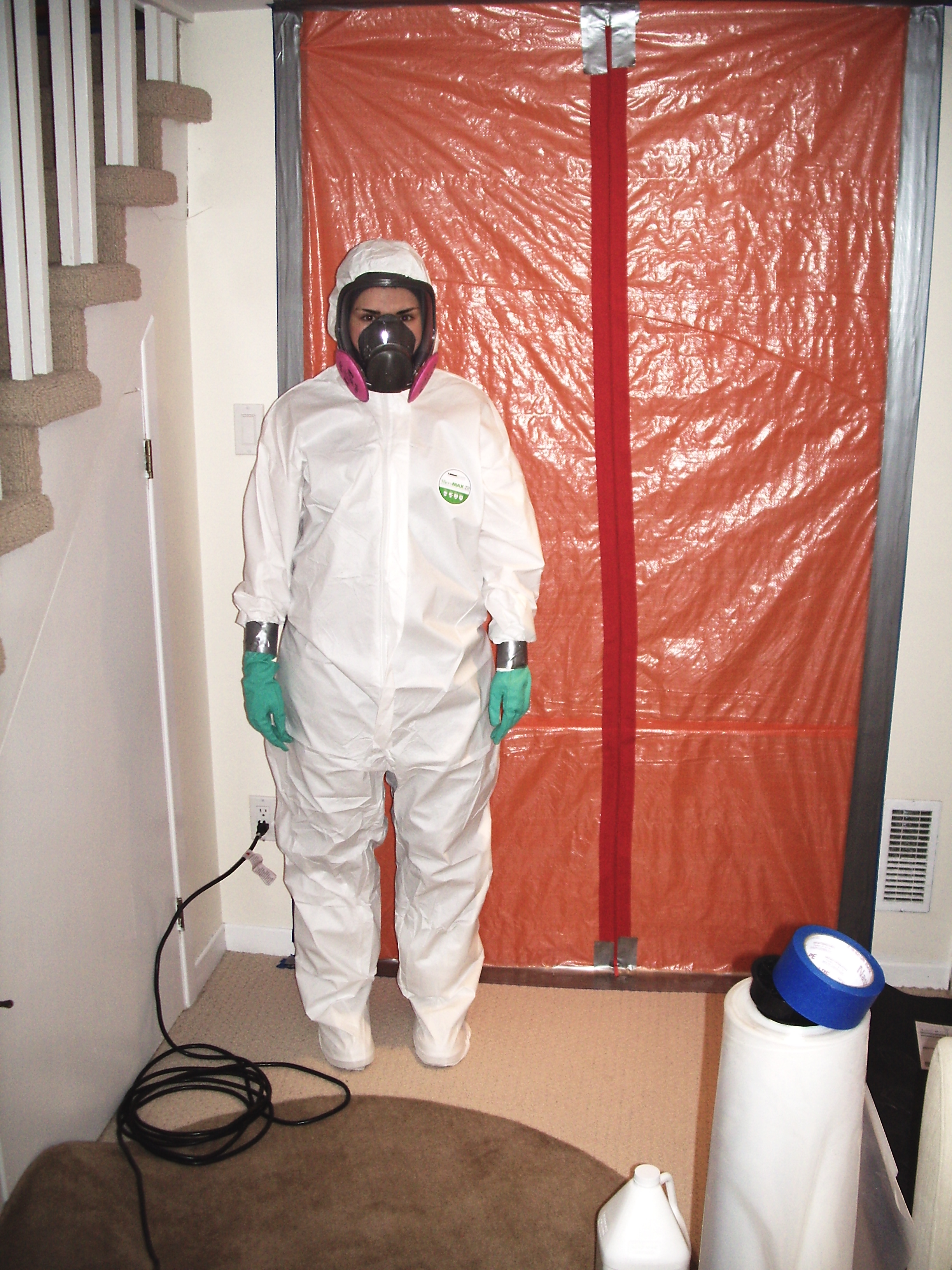 Containments Negative Air & Air Scrubber PPE - Personal Protective Equipment

Canada's Restoration Services of Montreal uses top-of-the-line equipment such as, media blasting , air scrubbers and negative air machines, dehumidifiers, and more to rid your home of mold and mildew.
We guarantee 100% mould purification clearance pass - not even dead mold spores are detected once our process is done, unlike other cleaning methods in the market (heating, micro mist and others which leave inert spores around).
We offer an option that all treated areas will be covered with fungicidal protective coating application to prevent future mold growth in this area.
Note, we use only eco friendly materials in our remediation process (no bleach or other harmful acids).
Pass clearance testing is recommended and done by a third party to ensure our process is monitored by another certified professional lab, leaving you the customer with the best guarantee.
Our IICRC and experienced Certified Technicians are ready and equipped with fully loaded units, ready to handle any mold problem and ensure that your home/property is at the 5"acceptable " levels mould-cleaned and all mold damage is repaired.
Don`t wait until it`s too late! Immediate action is required on first sign of mold infestation.

Call for a FREE certified visible Mold Inspection
1-888-551-0514

Do you have visible or non Visible Mold?

Allergies and sickness due to poor Indoor Air Quality or damage to wood-frame buildings by mildew, mould, staining fungi, and decay fungi is entirely preventable.

Six Necessary Steps for Mold Remediation:

1) The first step in the process of treatment or identifying what Mold you have is an inspection. Our mold inspections are done by IICRC certified mould inspectors. We will perform a complete FREE visual inspection of your property, paying special attention to places we know are prone to mould growth.

A Mold Inspection includes:
Infrared Camera Scanning

: a valuable diagnostic tool which gives us the ability to detect water leaks behind walls, in ceiling, or under floors without the need for any destruction. In addition, it can identify dew points, which indicates areas of potential mould growth (available in certain areas).

Moisture Meter

: for moisture measurement on walls and ceiling surfaces. If the moisture level is high, the possibility for mold increases.

2) TEST with an AQT (Air Qualty Test) or Mold Swab
3) Have a professional prepare the scope.
4) Canada's Restoration Services will perform the Mold Remediation with guaranteed "clearance".
5) Final 3rd Party Clearance.
6) Canada's Restoration Services Montreal construction department will restore / rebuild to previous condition.
FAQs
Q: How do I find a Mold removal company in Montreal?
A: There are many certified mold removal companies in Montreal, but there are many that are not certified. It is very important that you do your research before hiring a company and be sure that they are IICRC certified.
Q: Can Mold be harmful to my pets?
A: In some cases mold can be harmful to your pets. It depends on the type of mold that is presence and the location of it. It is recommended that you keep all pets away from any mold present to ensure that they do not get sick. Any pet that can come into contact to mold is susceptible to illness, however it is not guaranteed. It is best to keep them away to be safe.
Q: How long will it take your company to come and assess my house in Montreal, then do the actual work?
A: In most cases we can inspect the property the next day or within 48 hours and have a certified mold removal team in to address the problem very quickly after that. When called regarding mold, we take it very seriously and ensure that property owners get the best service possible. We pride on removing any harmful bacteria from homes to ensure that everyone breathes clean air.
Q: I am a tenant and I found mold in my apartment. Who is responsible for this?
A: Any remediation work needed to be completed in a rental unit must be approved by the owner of the property. Make sure the landlord is aware of the situation and ensure that whoever they hire, is certified for mold remediation.
Q: Is there a difference between white and black mold?
A: Black mold, Stachybotrys, is commonly found growing on water damage materials. White mold is more common known as efflorescence which is a crystal found on concrete and masonry structures. However, if you are noticing white mold on any material other than concrete and masonry structures, it is not considered efflorescence but is known to be penicillium/aspergillus or cladoporium (additionally this may come in other colours). Of the two types of mold, the black mold is more serious and can cause more serious side effects.
There are many certified mold removal companies in Montreal, but there are many that are not certified. It is very important that you do your research before hiring a company and be sure that they are IICRC certified.
MONTREAL
The city of Montreal a North American city comprising a hugely diverse population prides itself on maintaining one of the highest standards of living in the world. A rich Canadian-American-French history gives Montreal a stable and enjoyable city status as one of the world's most livable cities. Montreal city proper is home to more than 1.6 million people and is part of a metropolitan population that spans approximately 3.6 million people. Montreal is the largest city in Quebec and the economic center for business not only The province of Quebec but also for Eastern Canada and North America at large. Considered an innovative city internationally Montreal is host to various large corporations specializing in commerce, aerospace, finance, tourism, film, technology, design and especially its rich cultural history and heritage. Originally called the 'City of Mary' Montreal is at present named after the extraordinary triple peaked hill located in the heart of the city named Mont Réal or Mont Royal.