24/7 Asbestos Removal & Testing Services in Ottawa
Canada's Restoration Services is a nationwide company and leader in the restoration industry. We offer and specialize in commercial and residential services for asbestos testing and asbestos removal, mold removal, water damage restoration, fire and smoke damage and reconstruction. Founded in 2008, we have locations in Ottawa, Montreal, Edmonton and Toronto and have completed over 10,000 inspections and jobs. Canada's Restoration Services operates 24 hours a day, 7 days a week. We invest in our extensively trained IICRC certified professionals and high performance equipment and are able to handle any type of property damage.

Book your free asbestos inspection today
Asbestos Inspection Ottawa
Property owners have become more aware of asbestos over the past 15 years after it has been linked to mesothelioma. The effects it can have on one's health can be dangerous if asbestos is not treated and removed properly. We conduct free asbestos inspections on your home or business. During the asbestos inspection, we assess the damage the asbestos has created, where the asbestos is located and the amount of asbestos in your home. A detailed scope of work will be sent to you within 24 hours. The detailed scope of work will outline our findings along with our solutions for asbestos abatement.
Asbestos Testing Ottawa
In order to confirm asbestos is present, an asbestos test may need to performed. A sample of the material will be collected and sent off to an accredited asbestos laboratory where the results will be sent back within 48 hours. A lab report will be presented to the client where the type of asbestos and the amount of asbestos is identified.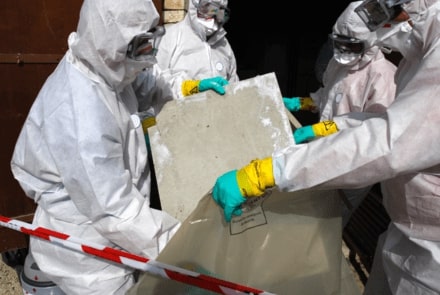 Once the sample has been tested, and it does contain asbestos, we will provide you with a detailed estimate and scope of work for the removal. A certified team will be scheduled to remove the asbestos and a certificate will be provided upon completion. It is imperative that asbestos is not disturbed because it can contaminate the rest of your home . Asbestos is very hazardous and can seriously harm your health and should only be handled by certified and trained asbestos professionals.
Asbestos Removal Ottawa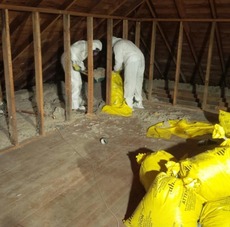 Once asbestos has been confirmed, asbestos abatement can begin. Our asbestos certified professionals wear protective clothing for safety reasons and to avoid contaminating any other areas. A containment is also set up around affected area(s) to prevent contamination in your home. It is crucial that the asbestos fibers do not spread around your home. This can create more risks and health issues. Asbestos removal has to safely be removed from your home using the proper equipment by asbestos trained professionals.
Canada's Restoration Services experts will work to remove asbestos from flooring, vents, drywall, baseboard, ceiling tires and anywhere else. Asbestos needs to also be safely disposed using asbestos removal bins and other techniques to prevent cross-contamination. Our objective is to remove the asbestos from your property and to guarantee and prevent any contamination in the rest of your home.
What is Asbestos?
Asbestos is the general name for a variety of natural fibrous minerals. The minerals have unique physical properties that have greatly encouraged a demand for it to be mined and used. After discovering its health hazards, demand for it has significantly dropped and asbestos mines have stopped functioning.
What is Asbestos used for?
If your house was built in the early 80's, then there is a high chance that asbestos might be present in your house. Asbestos was one of the most popular building materials that were used at the time. In the intervening years, study after study on the subject has shown that asbestos is very dangerous to anyone who gets exposed to it over a period of time. Asbestos has since been banned from its use in the construction of new buildings. However, this only covers new buildings. In order to remove asbestos from your home or building, you must contact a certified restoration company like Canada's Restoration Services.
Why Hire a Professional to Remove Asbestos?
Asbestos has numerous of health concerns and can be a detriment to one's health if not properly handled and removed. By having an uncertified technician remove asbestos, it can release harmful invisible to the naked eye, fibres into the air that have been linked to lung cancer and other various cancers.

Canada's Restoration Services'

professionals are extensively trained, fully licensed and IICRC certified and have performed asbestos removal thousands of times. Our expertise, training and experience remains untouched.
What are the Health Problems associated with Asbestos?
While some asbestos fibres are more dangerous than others, all pose serious health risks when exposed. Asbestos fibres can be released through various ways such as after repairs or maintenance and renovations, which causes a disturbance in asbestos-containing structural materials. The damage to someone's health from exposure to the fibres is dependent on a few variables:
amount of asbestos fibres in the air

how long your exposure lasts

how often you were exposed

the size of the asbestos fibres inhaled

the amount of time since your first exposure

the type of asbestos fibre
Depending on the combination of these factors, health risks could range from mild to severe. The main concern is the damage it causes to lungs, once the fibres get lodged and impair lung function. Health risks that have often been observed in individuals exposed to asbestos have included:
asbestosis - a scarring of the lungs that makes breathing difficult

mesothelioma - an otherwise rare cancer of the lining of the chest or abdominal cavity

lung cancer

cancer of the larynx

ovarian cancer
Where can Asbestos be found?
Asbestos can be found in many areas of your Ottawa home or property, including:
Asbestos Drywall & Asbestos Plaster

Asbestos Ceiling Tiles & Asbestos Vinyl Floor Tiles

Asbestos Textured Ceilings & Asbestos Popcorn Ceilings

Asbestos Pipe Wrap & Asbestos Duct Wrap

Asbestos Register Vents

Asbestos Insulation or Vermiculite Insulation
What is Vermiculite? Click here to learn more information.
Speak to an asbestos expert today
Proudly Serving – Orleans, Cumberland, Gloucester, Osgoode, Rockcliffe Park, Barrhaven, Nepean, Rideau, Goulbourn, Stittsville, Kanata, West Carleton, Torbolton and More.