What Type of Actions Can Trigger Asbestos?
Damaging products or materials that contain asbestos can disturb the mineral and create a health risk. If you fear your property may have asbestos contact certified contractors for asbestos removal in Toronto as it is against the law to perform a DIY asbestos removal. Restoration companies in Toronto like Canada's Restoration Services offer skilled, certified, and safe asbestos abatement services.
How Does Asbestos Get Triggered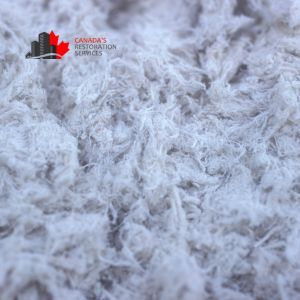 Left alone and undisturbed, asbestos is entirely harmless; only once the mineral gets disturbed by touch or physical contact, it becomes airborne and can be inhaled, causing severe illnesses, like mesothelioma. Asbestos can get triggered when performing maintenance on the property, renovations or even through water damage.
How to Avoid Asbestos Exposure
Certified restoration companies in Toronto will be able to inspect your property if you live in an older home and are about to embark on renovations or maintenance. Never try to clean up broken or cracked materials that may contain asbestos. Asbestos removal in Toronto requires proper protective equipment, containment measures, and thorough abatement. It is against the law to try and remove asbestos yourself as you may cause the asbestos to spread and cause injury to your own health.
Canada's Restoration Services for Asbestos Removal in Toronto
Canada's Restoration Services is an industry leader in asbestos removal. Our IICRC-certified professionals will conduct a thorough inspection of your property, send samples for testing to a third-party accredited laboratory, and efficiently remove the asbestos from anywhere within your property. We can remove asbestos safely and effectively. If you have any questions, don't hesitate to contact one of our knowledgeable experts.