What Affects Asbestos Removal Costs?
Asbestos is recognized as a hazardous material present in many residential and commercial properties built or renovated before the 1990s. To prevent it from affecting the health of you and others in your building, commercial space, or home, call Canada's Restoration Services for asbestos removal in Toronto. Costs of it can vary depending on the size and severity of the affected area. Though this service is essential in protecting your home, weighing the asbestos removal cost is reasonable. Canada's Restoration Services provide services that your insurance can cover at the best possible price.
Size of Asbestos-Affected Area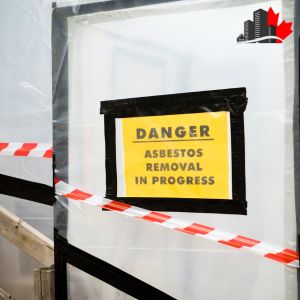 The size of the affected area plays a significant role in determining the removal cost. For example, confining a single room is going to be less costly than confining an entire house. It also comes down to how accessible the asbestos is to remove. If it is hidden behind a wall, it will cost more as this specific area is more labour-heavy. With more labour required, the asbestos removal cost will increase.
The Severity of the Asbestos
The severity of the asbestos that requires attention can increase the removal cost significantly. Depending on how much there is, you may need to pay for multiple professionals to assist in removing the asbestos. More severe asbestos also requires more robust protection to prevent asbestos exposure which can also contribute to the price.
Once the removal is complete, the cleanup service can add to the cost, depending if they have removed a wall or created significant damage that must be restored. To get started with asbestos removal in Toronto or the Greater Toronto Area, contact Canada's Restoration Services for an inspection.