ASBESTOS POSSIBLE:
Due Diligence On Finding & Solving The Problem
Among the six main types that exist: amosite, crocidolite, anthophylite, tremolite, actinolite and chrysotile, chrysotile asbestos is the most common mineral found in building materials on the market. Chrysotile belongs to the serpentine (fibrous) family of asbestos. Unlike its amphibole (crystalline structure) family cousins, chrysotile has a flexible and layered structure; making it less brittle and less susceptible to becoming airborne. Chrysotile or 'white asbestos' was widely used for its fire resistant and heat insulating properties taking up residence in 90% of worldwide asbestos-based products. Some of the earliest records of its use date back to 755 A.D. Canada's first asbestos mine opened in Quebec around 1878. By 1966, Canada produced 40% of the world's chrysotile asbestos.
Undisturbed, white asbestos is not considered harmful. When found in floor tiles and pipe insulation, this silent hazard lies dormant. However, it is by no means a less dangerous form of asbestos than other varieties. It is only less harmful when it is not friable; meaning, tiny fragments from age or damage cannot be inhaled or ingested when found solid compounds such as building materials that are in tact. The other varieties of asbestos are friable, making them easy to breathe in and more likely to cause sever respiratory issues.
If your home was built prior to the late 1980s or up to the mid 1990s (the 1990s specifically referring to contaminated vermiculite insulation), you could be at risk for asbestos exposure. Here's why:
Asbestos from chipped tiles (usually vinyl), loose insulation and aging pipe wraps breaks down over time. As this happens, asbestos particles becomefriable and less flexible. Once airborne susceptibility to respiratory diseases related to exposure is increased. These include: mesothelioma, lung cancer or to a lesser extent, asbestosis –a chronic condition where permanent lung scarring and restricted breathing occurs.
Reducing Risk:

What You Need To Know

Here is a brief look at only a handful of the 3000+ products asbestos was commonly used in, many of which can still be found latent in products today. Visit this link for more info:

A good property owner knows that maintenance is key to preservation. Without proper care or education on how to safe-handle asbestos removal, you could be putting yourself, your staff or your family in danger of exposure. Ignorance –when it comes to asbestos— is not bliss and bears potentially fatal risks. Only a trained asbestos abatement and removal professional knows exactly what to do to keep your family or workplace safe from cross-contamination. Here are a few measures you can take, to avoid exposure:
Don't vacuum or sweep fallen debris from cracked or damaged asbestos products; disturbing the particles releases them into the air and pose serious health risks
At home, seal off the suspected area and keep children and pets away
Type 2 or 3 asbestos requires government permits for removal. If you don't know what type of asbestos you have, it stands to reason you won't know what to do to safely remove it. Don't put yourself, your family or your employees at risk. Get a free assessment and estimate.
Think you have an asbestos problem? Call Canada's Restoration Services first:
1-888-551-0514
Combatting Asbestos:

"It's Not What We Do, It's How We Do It":
Inspection and Testing
Canada's Restoration Services generally refers clients to a third party Industrial Hygienist/Indoor Environment Specialist or Asbestos Inspector, to complete initial tests. This procedure is in place to avoid conflicts of interest when undertaking the work and ensures everyone's safety as a primary preventive measure. If the suspicious material has been tested positive for asbestos, then a free inspection & estimate can be scheduled.
Scope of Work
Upon inspection completion, guidelines are presented by the inspector. Each removal and abatement project is unique. Here are a few factors that influence a project:
Level of asbestos present
Size of removal area
Building type
Access to windows
Access to external area
Type of occupants (e.g. children, immune-challenged, etc.)
Abatement
The procedure for asbestos abatement involves removal of or a complete restriction of its fibers from being released within a building, by encasement or encapsulation. Canada's Restoration Services provides abatement services for the following asbestos-related issues.
Pipe Wrap
Duct Wrap
Plaster
Drywall
Insulation
Vermiculite Insulation
Floor Tiles
Ceiling Tiles
Boards
Removal
Our teams of certified professionals are equipped to contain asbestos and prevent disbursement throughout your home or office. Necessary precautions are in place to inhibit cross-contamination. Our teams wear head-to-toe Personal Protection Equipment (PPE), use respirators and apply the correct tools for the job. We equip our technicians with full-face respirators to provide them with extra protection and our clients with the added peace of mind.
The contaminated area is first marked and then fully contained before removal
Entry points (windows, doors, ventilation) are sealed with industry-standard poly drop sheets to cover any potential openings and prevent secondary contamination
Once contained, the asbestos is sprayed with a binding material to prevent fibers from becoming airborne, keeping them wet and together.
Asbestos is then removed and materials are deposited and sealed in 6mm poly bags
All garbage is safely removed and all cleaning materials are disposed of after each job
Throughout the cleanup HEPA filtration machines are used to continually scrub the air; this not only aids in the removal of asbestos, the negative air pressure also prevents cross-contamination
Clearance is provided by a certified inspector prior to contaminant removal
Containment and barricades are lifted and waste bags are wiped down post-inspection and prior to disposal
Additional restoration or repairs are then completed, leaving a healthy, safe environment free from asbestos contamination
We provide all clients with a certificate of work completed
Where is asbestos found?
Places to look in the office or at home
Basements
Behind Walls
Ceiling Tiles
Floor Tiles
Duct Work & Duct Wrap
Insulation
Pipe Wraps
Plaster applied to Wood Lath
Plaster Ceilings
Popcorn Ceilings
Roof Shingles
Siding
Vent Registers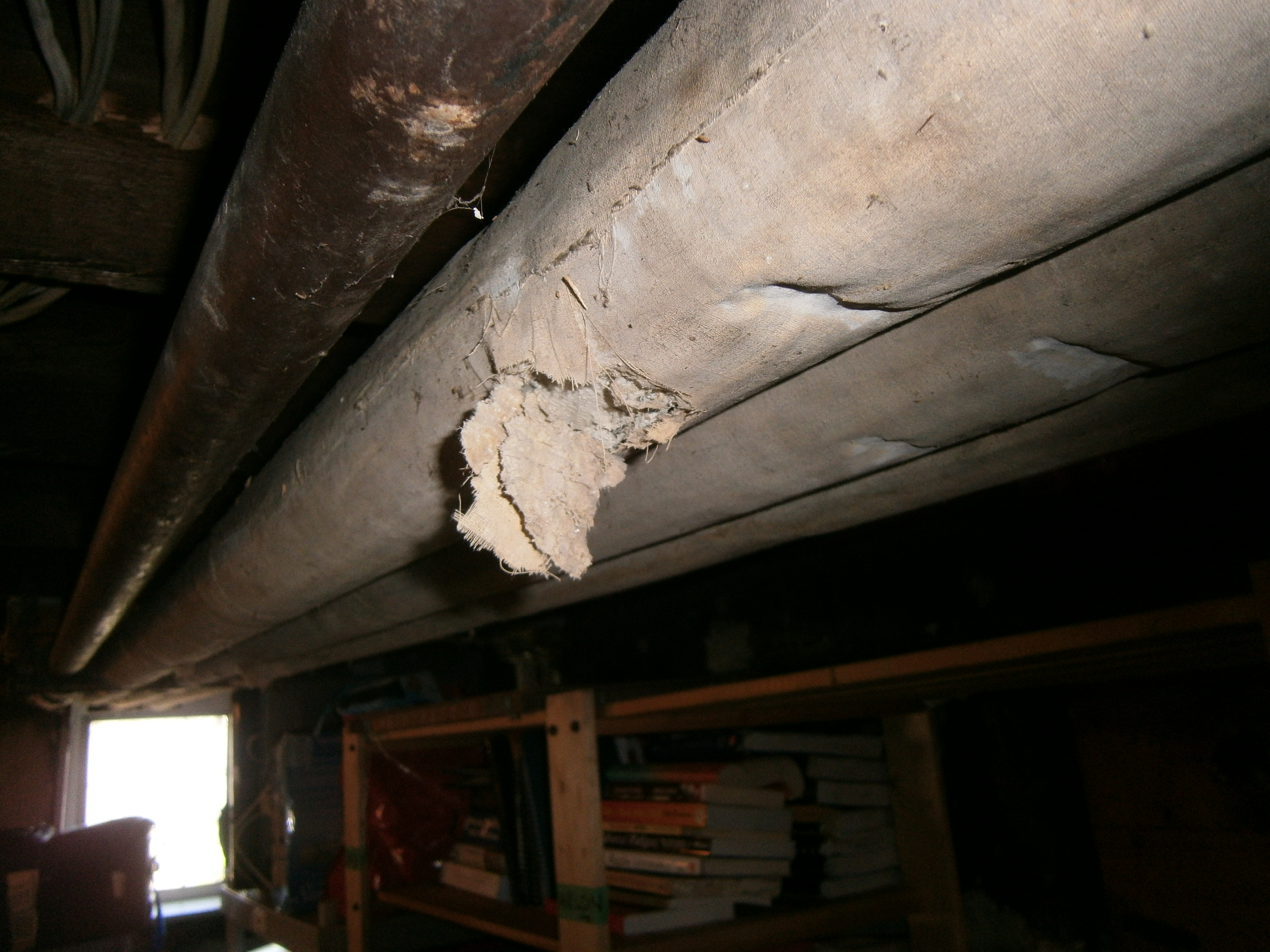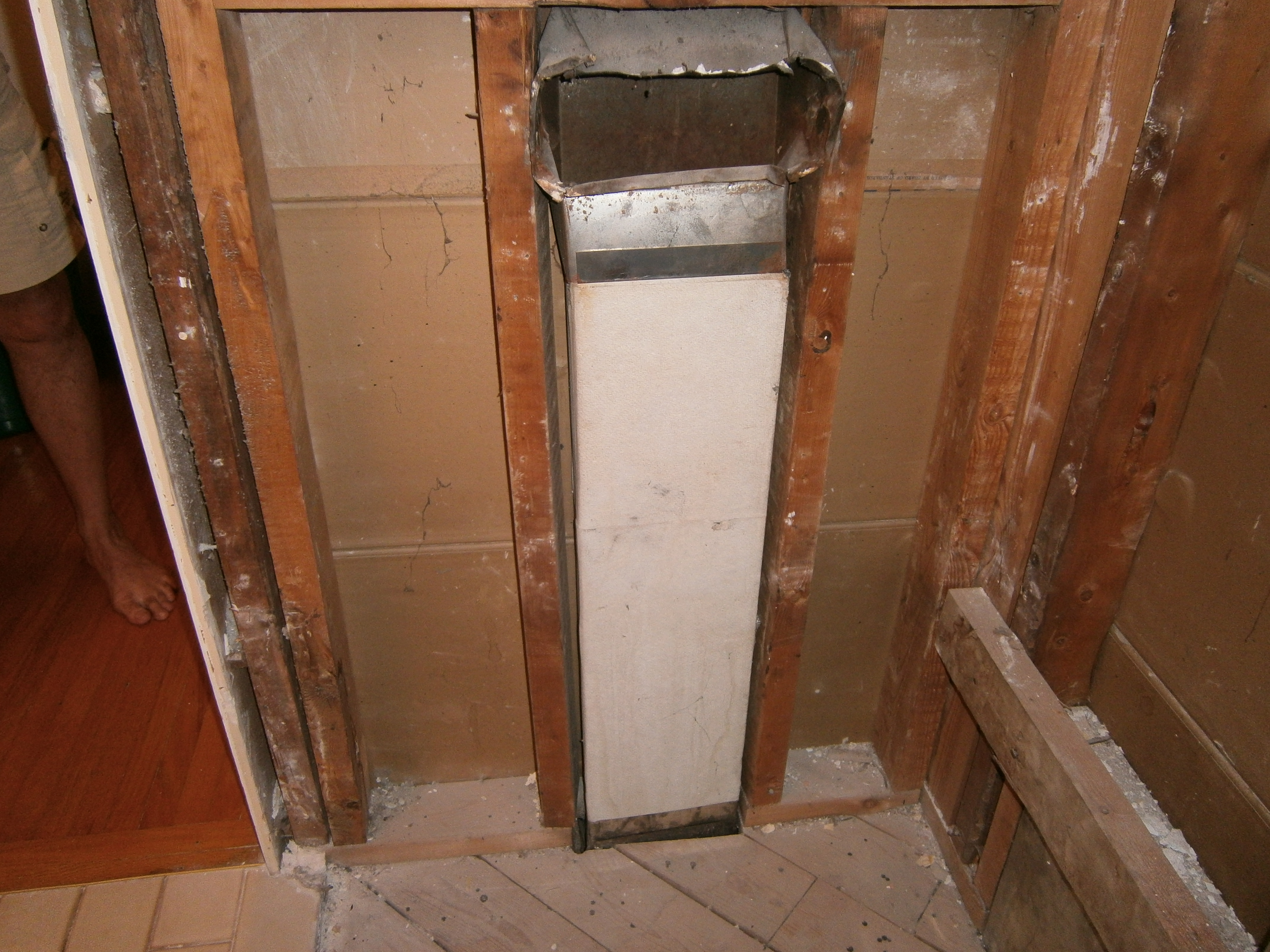 Asbestos wraps can appear fibrous, like cloth, or bear a paper-like texture, covering the entire pipe or just the joints and elbows. The paper-like version resembles a cardboard tube wrapped around piping or ducts while the cloth version resembles the material you might see in casts for broken bones.
When it's unsafe: Water, aging and damage can cause the wrap to unravel and fibers to become brittle. Once airborne, the fibers pose a serious health risk. Asbestos wraps can run all the way to ventilation ducts. When disturbed, particles can release into the air and blow through your HVAC system exposing everyone in the building.
Precautions to take: Examine pipe wraps for unraveling and brittleness but do not touch the suspected material. Call a professional immediately to have it properly identified as asbestos before removal.
VENT REGISTERS AND POPCORN CEILINGS WITH ASBESTOS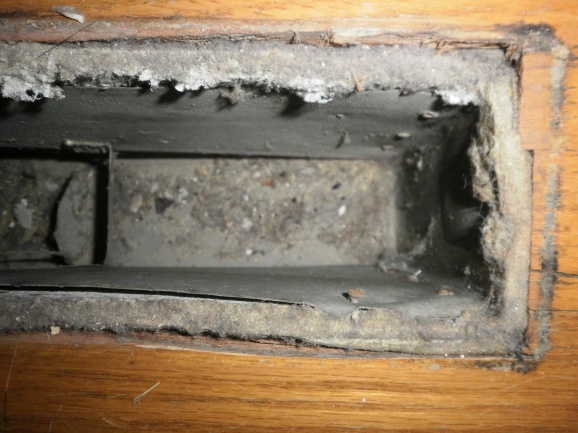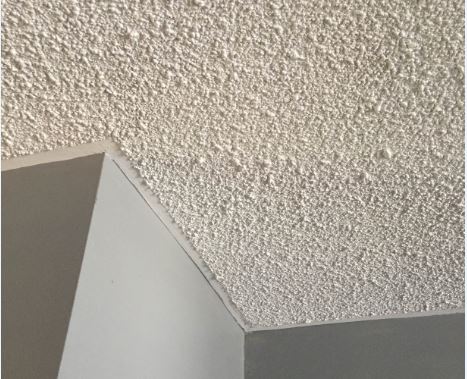 How it looks:Underneath vent covers asbestos appears as a fibrous material that may look frayed, comparable to chunks of dryer lint or a papery thin grayish white material, lying just under the flooring. These can also include flooring glue and tiling around vents or underlayment from carpeting.
Homes built up to the late 1980s are likely to have asbestos in popcorn ceilings.
When it's unsafe: Lifting, removing, scraping or any other method that involves replacement or disturbance to the structure of asbestos results in exposure. Popcorn ceilings can be painted with the right equipment but extreme caution must be used.
Precautions to take: Leave the area alone and contact Canada's Restoration Services first at: 1-888-551-0514 to have the asbestos levels checked prior to removal. Get the facts before starting your home renovation project.
FLOOR TILES WITH ASBESTOS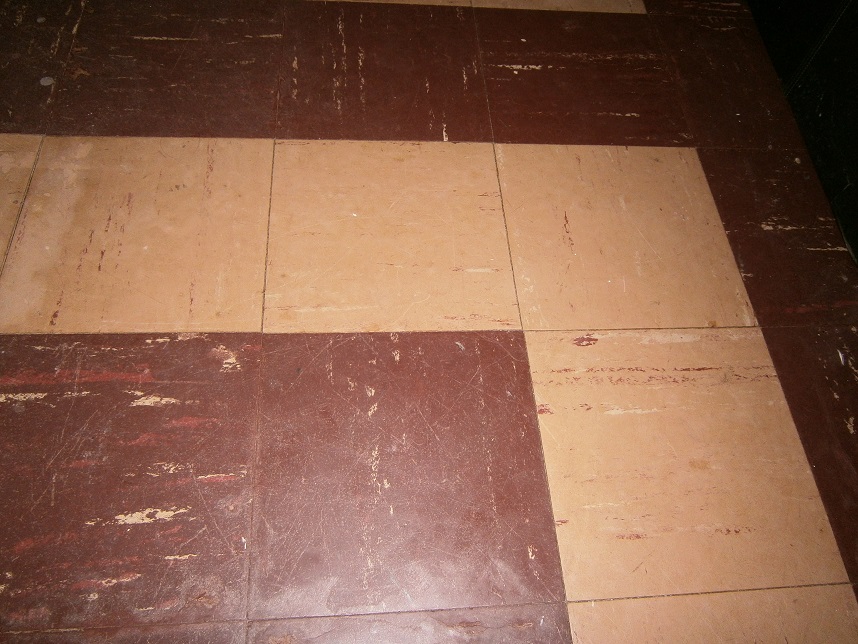 Vinyl floor tiles may be adhered with a black asbestos rich glue that contains bitumen. When old flooring is lifted, a white paper-like substance, chrysotile asbestos, is sometimes found between the flooring and the sub-floor.
When it's unsafe: The black glue is often used to adhere the paper or tiles. Removing asbestos tiles or underlayment, means exposure.
Precautions to take: Have the area tested and checked for asbestos before remodeling.
Vermiculite & Asbestos:

What's The Link?

You may have heard about vermiculite and its ability to retain air and moisture for gardening purposes but it was also used in attic insulation. According to statistics from 2008, this highly friable substance was used in homes built up to and including the early 1990s many of which are at risk for asbestos contamination.

Contamination occurred from extracting vermiculite from the Libby Mine in Montana, which was the main supplier of vermiculite insulation in Canada and the US from the 1920s to the 1990s; primarily sold under the brand name Zonolite®. It is estimated that some 250,000 homes within Canada were affected and most often found in multi-family/row houses. Tremolite asbestos has been found in conjunction with the vermiculite in Zonolite® which caused the contamination. The Libby Mine closed in 1990. In 2002, Libby Asbestos made the US EPA's national priority list.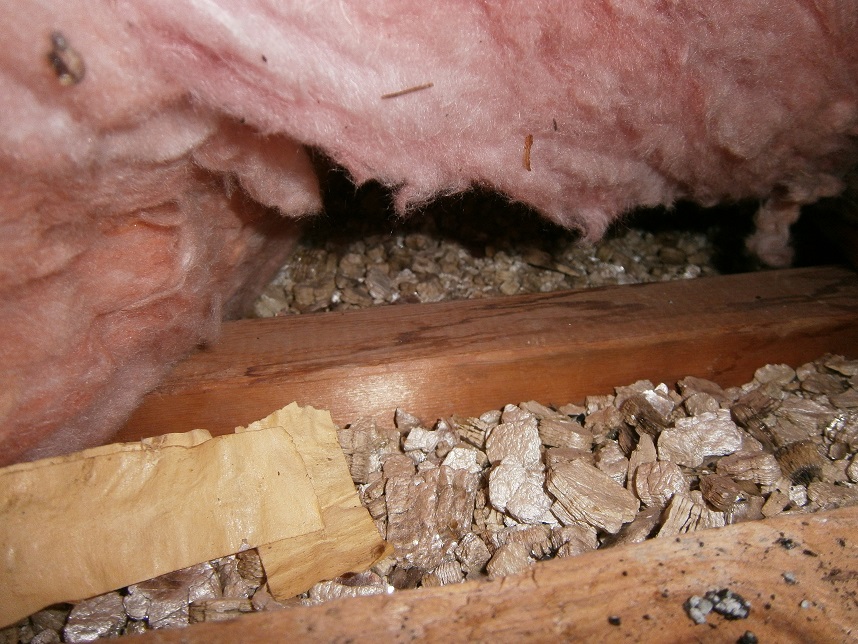 Why use Vermiculite?
Like asbestos, vermiculite use came to prominence as a result of its insulating properties and fire resistance. When heated, it expands to fill space where other insulating materials might allow warm air to escape. Not all homes that contain vermiculite insulation are contaminated with asbestos but it's a good idea to have it checked by a professional for safe handling. Call our experienced and certified asbestos team at Canada's Restoration Services for a free inspection.
1-888-551-0514
How to reduce your risk of asbestos exposure:
Keep children and pets out of the attic
Do not store boxes or materials in the attic where vermiculite is used
Do not disturb the particles. Once airborne, the risk of exposure is increased
Seal holes and cracks in ceilings, baseboards and around electrical outlets
If vermiculite is contained in a newer (late 1990s) home, it is more likely to be safely installed and asbestos-free. To be sure, contact

Canadian Restoration Services

at

1-888-551-0514

before renovating or remodeling your home
Be safe, hire a pro:
Canada's Restoration Services
1-888-551-0514