Do It Yourself Mold Removal Techniques
If you are trying to remove mold from your home, you may have considered hiring a restoration company in Toronto. But before reaching out to these professionals, many property owners try the do-it-yourself approaches. Depending on the extensiveness of an infestation, do-it-yourself mold removal may keep mold at bay for a little while. Still, most of the time, outbreaks return, and sometimes it is even more severe than initial infestation. Therefore, it's important not just to clean up the mold but also remove its source. This could mean repairing leaky pipes or ventilation ducts or removing moisture from areas where it accumulates such as behind walls and under floors.
Vinegar for DIY Mold Removal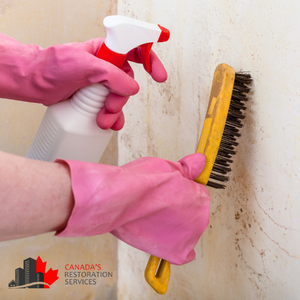 If you're looking to remove mold from your home, there are a few different options. In Toronto and the GTA, the most common household product used for do-it-yourself mold removal is vinegar. In some cases, a vinegar solution can be a highly effective opponent for mold. Some studies suggest that it can kill 82% of species of mold spores. On smooth, non-porous surfaces like tiles, counters, or floors, wiping these areas can remove traces of mold from the site. Unfortunately, this technique is very localized and is limited when it comes to eliminating mold that may have spread to other areas in the room or property, leaving plenty of opportunity for a resurgence.
Tree Oil Spray or Lemon Juice for DIY Mold Removal
Another DIY method involves using natural cleaners like tea tree oil spray or lemon juice mixed with water on surfaces that are not porous. However, make sure you are wearing protective gloves and mask, because essential oils can cause skin irritation for some people.
Bleach and Water for DIY Mold Removal
Bleach is also a good product to remove mold from non-porous materials such as glass, tiles or countertops. Just mix a ratio of 1 cup bleach to 1 gallon of water and apply with spray bottle. Do not wash it or wipe it off, let it dry. Make sure to use protective gear to avoid skin irritation or rashes.
Mold is a serious problem, and it can be incredibly dangerous to your health. If you notice mold in your home or business, don't try to handle the situation yourself—reach out to a restoration company in Toronto for help.
With hundreds of mold and fungi species in existence, they can range in toxicity. This means coming into contact with mold or even just close proximity presents a significant risk to the health and well-being of occupants in a mold-infested property. In the most challenging situations, toxic black mold exposure can cause headaches and memory loss; even as outbreaks become less severe, contact with mold can lead to allergic symptoms, nausea, and skin irritation. It's safest not to remove mold without the advice of a local restoration company near Toronto. But, if you must be around an infestation, it is vital that you protect yourself with masks and gloves. Personal protective equipment will minimize the chances of becoming ill.
Vinegar Should Not Be Used For Mold Removal On:
Granite, stone, or marble countertops
Hardwood or wooden floors
Aluminum, copper, or stainless steel
Drywall, carpet, ceilings
Professional restoration companies in Toronto, like Canada's Restoration Services, offer multi-step mold remediation services.
First, our team focuses on identifying the source of an outbreak using mold inspections. By finding the origin point, trained restoration specialists will assess the conditions that have made your property conducive to mold.
During inspections, technicians will carefully collect mould samples around your property. These samples are sent to 3rd party labs for mold testing in Toronto, where specialists will identify the specific species of mold infiltrating your property.
The final stage of professional mold remediation in Toronto is the actual removal. This is a complex process tailored to your property and the types of building materials infested. Using negative air machines, air scrubbers, as well as other advanced equipment and techniques, trusted restoration companies in Toronto will ensure your property is entirely mould-free.
When you employ the services of trained professionals from local restoration companies in Toronto, you can ensure the best mold removal results. Canada's Restoration Services is concerned with protecting your health, belongings and property during remediation. Our restoration contractors are IICRC certified and licensed. Click here for more information on > Mold Removal Toronto